The Sportsman's Guide To Chauvinism: Lowlights From SI's Roethlisberger Piece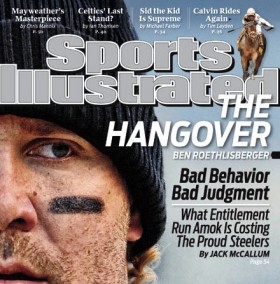 Sports Illustrated has released their definitive Ben Roethlisberger piece today, and the result is not pretty.
Although it provides no new information about what happened that night in Milledgeville, it provides plenty of firsthand accounts of encounters between the quarterback and a slew of waiters, friends, and teammates.
The picture that we get from these accounts is of an immature and bruthish athlete – the teen movie antagonist, brought fully to life in an outsized 6-5, 241 pound frame. Midway through the article, you fully expect him to knock over someone's tray and make fun of their glasses.
Here are a few of the always abrasive, sometimes scary social interactions between the world and the quarterback of the Pittsburgh Steelers. Courtesy of Sports Illustrated:
On the night that Roethlisberger was accused of sexually assaulting a young woman:
Earlier at Capital City [the Georgia nightspot where the alleged incident occured], witnesses say, Roethlisberger had held aloft a tray of tequila drinks and shouted, "All my bitches, take some shots!"
In the weeks leading up to the latest incident:
A man who agreed to be identified only by his first name, Craig, says that a few weeks before the Milledgeville incident, he overheard Roethlisberger making lewd comments to a pregnant waitress at a Pittsburgh T.G.I. Friday's. The waitress, when asked last week, recalled Roethlisberger's saying such things as, "Did your boyfriend forget to pull out?"
From 2008, around the time Roethlisberger was accused of assualting another woman:
Roethlisberger visited Cabo Wabo Cantina on the grounds of the Harrah's resort with Joyner, Barravecchio and a female friend. There, according to a lawsuit filed by former Cabo Wabo waiter Alvaro Brito, the group "mocked, made fun of and mimicked" Brito while he asked the woman for I.D. to prove she was 21. (Roethlisberger produced the I.D., which showed her to be 27.)

As the quarterback left, the lawsuit alleges, he asked Brito if he knew who [president of the resort Kevin] Koster was and told Brito that Koster was a friend of his. A few days later Brito, who had worked for Harrah's for 12 years and earned $47,000 a year, was fired.
From a few years ago:
Mark Baranowski, owner of the popular Cabana Bar in Pittsburgh, says that when the quarterback first came in with a group of hangers-on a few years ago, he refused to pay the $5 cover and used a variation on the Do you know who I am? line to intimidate an employee at the door.

Baranowski, through an intermediary, told the staffer Roethlisberger wasn't banned but added, "Tell him he's an arrogant a——, and every Steeler can get in without a cover except him." Roethlisberger has not been back to the Cabana Bar.
From one of Roethlisberger's friends:
[A friend of Ben's] is embarrassed by Roethlisberger's pettiness and immaturity during pickup basketball games—he says Big Ben will whine about team selection, talk mean-spirited trash and flex his biceps when he makes a good play. He despairs when he sees Roethlisberger blow off attempts by older Steelers, such as Hall of Fame quarterback Terry Bradshaw, to give him advice.
From teammate Hines Ward:
Veteran receiver Hines Ward, who during his six seasons as one of Roethlisberger's favorite targets has never had a close relationship with the quarterback, called the suspension "justified" and added, "When you're in the quarterback position, everybody looks to you and there are certain situations you can't put yourself in.
Finally, from a store owner in the Pittsburgh area:
At Yinzers in the Strip District, 50-year-old owner Jim Coen has moved his bin of Roethlisberger jerseys to a storeroom in the back. "That's thousands of dollars worth of merchandise right there," Coen says. He points to the little girls' pink number 7 shirts emblazoned with Roethlisberger's name. Says Coen, "Would you buy your daughter this jersey?"
None of these quotes have any bearing on the more serious charges leveled against Roethlisberger. Those charges have been dropped.
But if the above stories are even partly accurate (and these are just a few – go to Deadspin for the authoritative collection), their publication in SI confirms a few things:
1. Any supposed kid gloves that Roethlisberger has been treated with by the media are now completely off.
2. He will have to work even harder than before in getting NFL commissioner Roger Goodell to reduce his suspension.
3. He is the new poster boy for athlete entitlement, sports' most dubious honor.
Have a tip we should know? tips@mediaite.com