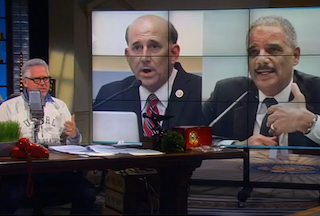 Glenn Beck broke down yesterday's hearing confrontation between Attorney General Eric Holder and Rep. Louie Gohmert (R-TX) and came away with the conclusion that Holder was "psychotic" for telling the congressman "Good luck with your asparagus" at the end of his time.
Of course, if you recall, it was Gohmert who first accused Holder of trying to "cast aspersions on my asparagus" last May. As Beck and his co-hosts put it, Holder has been "holding onto" that line for almost a year, filled with "spite" and "contempt."
RELATED: Louie Gohmert Reveals Whether It's 'Personal' Between Him and Eric Holder
"You have the attorney general of the United States of America, who is dirty, who has done things over and over and over again and has gotten away with it, who is not afraid of Congress" Beck said. He said Holder does not have "respect" for his own office, let alone Gohmert's. "There is no respect!"
"The guy's had a year to think about that line," Beck said, returning to the "asparagus" crack. "He has waited a year. That is psychotic… Holder is a very bad guy and he's out of control."
Watch video below, via TheBlaze:
UPDATE (1:45pm ET): Later in the show, Gohmert joined Beck and crew by phone to discuss the asparagus saga and defend his original comment to Holder. According to the congressman, he did not misspeak, but rather was quoting Percy Foreman, "a very, very liberal criminal defense attorney" from Texas who would allegedly use that line to disarm his opponents.
"When somebody started attacking his integrity, he stood up and said, 'I object, he's casting aspersions on my asparagus!'" Gohmert explained. "And people would scratch their heads, but it brought down the level of the rancor. I was using a Percy Foreman line from criminal trials back probably 50 years ago."
Watch video below, via TheBlaze:
And watch the "asparagus" exchange from yesterday's hearing below, via C-SPAN:
[photo via screengrab]
— —
>> Follow Matt Wilstein (@TheMattWilstein) on Twitter
Have a tip we should know? tips@mediaite.com