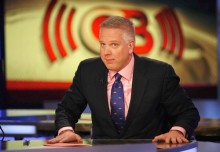 It would be hard to find a current public figure more rigorously exercising his constitutional right to freedom of speech than Glenn Beck. Alas for Beck, the First Amendment may not be his best friend in this instance.
You may recall that in early September we reported on the existence of the website www.glennbeckrapedandmurderedayounggirlin1990.com. The Internet meme, "Did Glenn Beck Murder and Rape a Young Girl in 1990?" (answer: no), initially began as a Fark thread and was shortly thereafter developed into its own website, attracting a great deal of attention. It probably goes without saying that Glenn Beck was not thrilled by this and quickly filed a lawsuit against the site's anonymous owners. From our post at the time:
Beck's lawyers went after the domain registrar, asking it to take the site offline and turn over the name of the site's anonymous owner. They also filed a case with the World Internet Property Organization, "the group which handles the worldwide domain dispute resolution process, on the grounds that the new website was improperly using Glenn Beck's trademarked name." Techdirt has a copy of the domain name dispute his lawyers filed here.
No such luck for Glenn Beck. The World Internet Property Organization (WIPO) has just ruled that the site, described by its owner Isaac Eiland-Hall as a "satirical critique of Beck's conspiratorial politics," was "strongly protected" under the First Amendment. A ruling, which I imagine may further open a floodgate for the creation of similarly extreme sites should Beck remain as zeitgeisty and controversial as he has been these last few months. From the ruling:
WIPO's arbitration panel agreed that the website appeared "to be engaged in a parody of the style or methodology that (Eiland-Hall) appears genuinely to believe is employed by (Beck) in the provision of political commentary, and for that reason (Eiland-Hall) can be said to be making a political statement."
So there you have it, First Amendment practitioners make strange bedfellows. Eiland-Hall, however, was apparently not satisfied with merely winning the case. After the decision was announced Eiland-Hall opted to hand over the website domain name (the site is now down) to Beck, himself, accompanied by this letter:
"It bears observing that by bringing the WIPO complaint, you took what was merely one small critique meme, in a seas of internet memes, and turned it into a super-meme. Then, in pressing forward (by not withdrawing the complaint and instead filing additional briefs), you turned the super-meme into an object lesson in First Amendment principles…

Rather than choosing to strive for excellence and civic contribution, you simply pander the fears and insecurities of your audience. And in the process, you do them, and us all, a great deal of harm.

Shame on you Mr. Beck…"
So, perhaps one lesson here is: live by the Constitution, put up with Internet by the Constitution. We'll have to wait and see whether Beck, a very vocal lover of the Constitution and all those involved in the writing of it, makes a public response to this when he returns to his show later this week.
Have a tip we should know? tips@mediaite.com