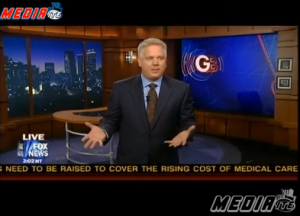 Not to be left out of the Super Bowl advertising controversy, or really, lack thereof, Glenn Beck opened his show today with a quick review of two of last night's most talked-about ads. Namely, Tim Tebow and Betty White.
Beck mocked NOW's "outrage" over the Tim Tebow ad — they apparently think Tebow tackling his mother glorifies violence against women. Which yes, seem like a bit of misplacement of resources. Beck followed up by wondering where was the outrage over Betty White's ad?! Says Beck: "It's not just violence against women, it's violence again old women! Why the hate from NOW?" Or ball-busting ones, depending.
But the ad that really got under Beck's skin was the $2.5 million Census advertisement paid for by the U.S. government. Money wasted!, says Beck, particularly from a president who likes to lecture us about fiscal responsibility.
"Do we really have to listen to this president preach to us about fiscal responsibility, maybe it's just me but I think that's a little like abstinence-only education taught by Tiger Woods. But what do I know. President Obama is a lot of smart things: he's accomplished, he's good-looking, he gives good speeches, he's married to a woman with unbelievably well-toned arms, I hear. But he's as fiscally responsible as a real housewife of Orange County at a Louis Vuitton sample sale."
Video below. Later in the show, which was filmed in California (Beck is there for his "Bold and Fresh" tour with Bill O'Reilly) Beck talked very reasonably with both California GOP Senate hopefuls Carly Fiorina (she of the demon sheep ad) and Chuck DeVore (though, not at the same time), which makes me wonder whether more candidates hoping to share a slice of the Beck popularity won't be knocking on his door in the months to come.

Have a tip we should know? [email protected]