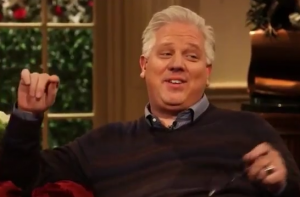 Talk radio and The Blaze host Glenn Beck mocked the National Enquirer's story claiming Ted Cruz had an affair with five different women, opening his Monday show by jokingly claiming that everyone on the show had been raped by Cruz.
"I have to tell you, it's been a hard Monday morning. We were all raped by Ted Cruz," he opened as his co-hosts held back laughter in the background.
"Ted was in the room. He's got that Cuban fire to him,"Beck continued.
"The other thing is you can't rape the willing, and we were all willing," co-host Pat Gray joked. "He's just that magnanimous, that magnetic."
In particular, the hosts mocked the part of the Enquirer story claiming Cruz would push women into bathrooms and closets as completely uncharacteristic. "He said, 'Glenn, we need a more perfect union.' I thought he was talking to me about the Constitution, but then he looked at me with those strong brown eyes… he backed me into a bathroom stall…" Beck began before trailing off.
"When we were in Iowa, we were backstage and he said to me, 'The United States Constitution places restrictions on the quartering of soldiers in private homes without consent,'" Gray joked. "I was putty in his hand."
"If Ted Cruz made it his life's goal to have five affairs, he wouldn't be capable of it…" co-host Stu Burguiere added, before saying. "Cruz, like, lucked out once with Heidi Cruz."
Beck agreed that part of him might have doubted Cruz if it was claimed he had an affair with one woman a long time ago. "But I'm having this really hard time with five women that he's backing into bathroom and broom closets at campaign rallies," he concluded.
Watch above, via The Glenn Beck Program.
[h/t Daily Caller]
[Image via screengrab]
——
>>Follow Alex Griswold (@HashtagGriswold) on Twitter
Have a tip we should know? tips@mediaite.com