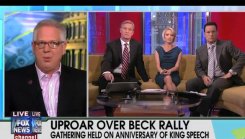 Glenn Beck is holding his 'Restoring Honor' rally this Saturday at the foot of the Lincoln memorial in Washington D.C., on what will be the 47th anniversary of Martin Luther King's 'I Have A Dream' Speech. Some people have taken issue with the overlapping of dates. One of those people is Al Sharpton, who went on Fox & Friends on Tuesday (video below) to discuss why he has a problem with it.
Essentially it sounds like Sharpton's issues have less to do with the overlap than the fact the rally is not specifically about Martin Luther King. Though, a cynic might suggest what is really needling Sharpton is that Beck's rally will likely be significantly bigger than the one Sharpton holds on the same date in D.C. every year to celebrate the speech. Martin Luther King's son, meanwhile, is slightly more nuanced on the subject.
For his part Beck says he wasn't aware of the anniversary when they chose the date, simply that it was the only Saturday the entire Mall was available that wasn't Sept. 11. Also, Martin Luther King is honorable and anyway "what part of honor are you against?!" Later Additionally, Beck says once he realized the date connection he began taking interest in the speech and shortly thereafter discovered MLK was also talking about character, and responsibility, and, yes, honor. Timeline-wise this makes sense and might explain Beck's recent fascination with the Civil Rights movement and African Americans in general.
Meanwhile, WaPo is speculating that Saturday's rally will "test the strength – and potentially expose the weaknesses – of a conservative grass-roots movement that remains an unpredictable force in the country's politics." I for one think the only thing Saturday's rally is going to be a measure of is the power of Glenn Beck, Tea Party on otherwise. We shall see. Sharton and Beck's segment below, courtesy of Johnny Dollar.
Have a tip we should know? tips@mediaite.com