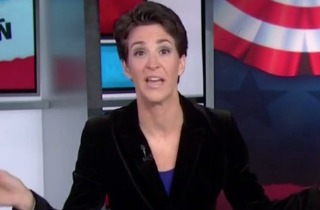 Glenn Beck's news site TheBlaze responded today to being called out in a segment by Rachel Maddow last Friday about conservative sites hyping up potential examples of voter fraud that, as Maddow put it, are designed to hype up your crazy conservative uncle before the midterm elections.
At issue here is a surveillance video of a man working for the group Citizens for a Better Arizona putting quite a number of ballots into a ballot box. Maddow mocked the conservative "frenzy" over this, pointing out that it's actually legal in Arizona for people to drop off multiple absentee ballots at a time.
Which brings us to The Blaze's coverage. The site headlined their piece on the subject "Surveillance Video Apparently Catches Guy Doing Something at the Ballot Box That Left Republican Monitor Stunned." Maddow nearly laughed at how The Blaze covered it and noted the small update at the bottom from a County Elections Department spokeswoman saying what the man did isn't against the law. Maddow took two issues with TheBlaze's report; 1) that they still have the story up and with the original headline despite the clarification, and 2) that they only published a response after they ran the original post. Maddow said that the spokeswoman "eventually gets a call from the Glenn Beck folks, after they post their damning story."
RELATED: Maddow, CO Anchor Call Out Megyn Kelly for Misleading Voter Fraud Coverage
But in a response post today, The Blaze's Jon Street (who wrote the original piece in question) explains upfront, "We made multiple attempts to get such a comment, and once we did, we included it in the story." He says an earlier version of the post had a note about their unsuccessful attempts to get comment thus far before it was updated. He also points to a follow-up piece he wrote with part of those comments in the headline.
Street concludes, "Maddow failed to acknowledge these multiple and well-intentioned efforts in her own reporting as she falsely accused TheBlaze of participating in the 'alternate universe of America's right-wing media.'"
You can watch the Maddow video in question here, via MSNBC:
[image via screengrab]
— —
Follow Josh Feldman on Twitter: @feldmaniac
Have a tip we should know? tips@mediaite.com
Josh Feldman - Senior Editor