Glenn Beck: Protestors 'Will Come For You, Drag You Into The Streets, And Kill You'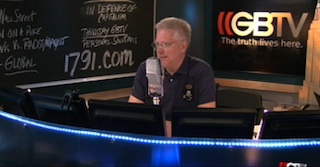 In case you hadn't heard, Glenn Beck isn't a fan of the Occupy Wall Street protests. However, unlike some others in the media he isn't just laughing them off as silly hippies. On the contrary, the protesters should be comforted to know that Beck respects them a great deal. In fact, he respects them enough to think that they're this close to dragging rich people into the street and murdering them.
Beck shared these thoughts in a warning to wealthy people, media figures and particularly politicians who may be siding with the protesters. Beck warned Nancy Pelosi that, were she to try to reason with the protesters, they would "take [her] off of your private jet and they're going to burn your farm down to the ground."
RELATED: Herman Cain And Glenn Beck Agree: 'Anti-Capitalism' Wall Street Protest Is Trying To Start Revolution
He found his proof in the video of circulating this week of civil rights leader and Congressman John Lewis being unable to address an Occupy Atlanta rally. Beck claimed that watching that video marked the second time in his life that he'd seen "true evil" (the first being Van Jones of course).
"Capitalists, if you think that you can play footsie with these people, you are wrong. They will come for you and drag you into the streets and kill you. They will do it. They're not messing around. Those in the media – and I am included in this – they will drag us out into the streets and kill us. If you're wealthy, they will kill you for what you have. You cannot tolerate this kind of stuff. You certainly do not encourage it."
Whether or not Beck's predictions come true, there's one thing for sure; his quote makes for a perfect Halloween-season headline on our front page.
Listen to the comments below:
Have a tip we should know? tips@mediaite.com