Goldman Sachs Invests in New Social Network Because Goldman Sachs Has to Own A Piece of Everything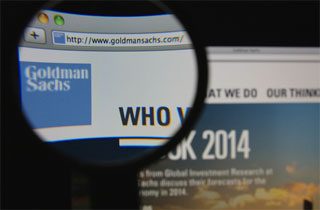 Goldman Sachs is creating a social network because everyone's making one these days. Okay, we kid. But Goldman Sachs is helping launch a social network for Wall Street, and that's crazy.
The app, called Symphony, will be an online hub where finance types can congregate online, "incorporating instant messaging, chat forums, Twitter and internal feeds," the New York Post reports. But why is Symphony embarking on this disastrous journey into a world where social networks often fail to gain traction?
For one, it's only for Wall Street, not for you cretins: According to the Post, Symphony, which has already received a $66 million investment from 15 banks including Goldman Sachs, is meant to compete with the Bloomberg terminal — basically, a machine that bankers cannot unhook themselves from, since it contains real-time tracking of stock prices, a stream of financial news, and the entirety of their social lives.
There's also a strong incentive for banks themselves, in that they can Big Brother their employees and monitor them for illegal financial activity:
Symphony has attracted interest from banks in part because it allows internal compliance officers to police any talk among traders that could end up in embarrassing court documents, among other reasons, according to Wall Street insiders.

"If you say the wrong thing in financial services, you can commit a crime," Paul Walker, global co-head of Goldman's technology division, told the students.
So far, 19,000 Goldman employees have signed up for the service, and other banks are testing the service with their employees. In the meatime, at least there's Facebook, where the rest of the world can be free of Goldman Sachs' omnipresent money hand — wait, they invested $450 million in Facebook?
Crap.
[NYP]
[Image via Gil C / Shutterstock.com]
— —
>> Follow Tina Nguyen (@Tina_Nguyen) on Twitter
Have a tip we should know? tips@mediaite.com