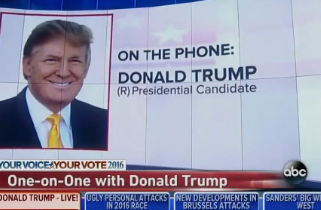 Not for the first time, Donald Trump has been asked by a reporter to clarify his views on internment camps and whether there would be space for them in his presidency.
Back in December, when the man proposed his Muslim ban, he appeared on ABC to talk to George Stephanopoulos. He defended his ban by saying it was really no different than what Franklin D. Roosevelt did with Japanese Americans, which caused Sephanopoulos to jump in and press him on whether he was advocating for the use of internment camps, which is what FDR really did with Japanese citizens.
He swore he was against internment camps, saying this:
They stripped them of their naturalization proceedings. They went through a whole list of things; they couldn't go five miles from their homes. They weren't allowed to use radios, flashlights. I mean, you know, take a look at what FDR did many years ago and he's one of the most highly respected presidents…
Now, someone has asked him again. Jonathan Karl, also of ABC, posed a question on internment camps to the presidential candidate yesterday, too. Trump gave this answer:
I would rule it out, but we would have to be very vigilant. We're going to have to be very smart. We're going to have to be very rigid, very vigilant. And if we're not very, very strong and very, very smart, we have a big, big problem coming up. We've already had the problem. Check out the World Trade Center, OK? Check out the Pentagon. We've already had the problem."
Check out the video above to see Trump respond to Karl's questions about possible interment camps.
[image via screengrab]
For more from Lindsey, follow her on Twitter.
This is an opinion piece. The views expressed in this article are those of just the author.