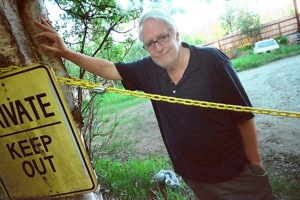 Author Joe McGinniss, whose rental of the property next to Camp Palin in Wasilla, Alaska earned him his own Facebook note and a decent month of bad publicity at the hands of Governor Sarah, is calling "mission accomplished." McGinniss told the AP over the weekend that his controversial stay– and his research– is over.
McGinniss is heading back to his home in Massachusetts, he says, to work on writing up what he found in Wasilla. And what he found, he explains, was mostly friendliness, food, and lots, lots of guns: "[Neighbors] started bringing me blueberry pie. I had many offers of handguns to borrow. I turned them all down. But for about two weeks there, I couldn't say hello to somebody without, they said, 'I've got a couple of guns for you in my truck.'" He also notes that, while there was an "undercurrent of fear," he found that Alaskans were all more than happy to talk to him, "with the single exception of that least Alaskan of all Alaskans, Sarah Palin.'"
As for the Palins themselves– he barely saw them, despite that all he needed to get a full view of the backyard (and the "children's play area," and maybe "Piper's bedroom"), was a boat. "They live in a place where anybody who wants to look onto their property, all they have to do is get a boat and park 10 yards off shore and they can sit there all day and look at the Palin's yard, if that's what they want to do," he explained. "But I don't know who would want to do that."
Of course, that's only half of the story, but the Palin's declined to comment to AP, and have yet to comment on the time McGinniss spent in Wasilla apart from their initial welcome.
McGinniss was maligned by the Palins for a previous article on Palin's policies as governor called "Pipe Dreams," which Palin called a "hit piece." Given McGinniss' previous comments about her tenure and her new media career, it's probable Palin will cry "hit piece" again when she sees the product of his summer research. Having survived Palin-McGinniss I, at least, the media world has an idea what's coming when McGinniss' book is released.
[Photo via WSJ]
Have a tip we should know? tips@mediaite.com