Google Doodle Pays Tribute to Fred Korematsu, Who Fought US Over Japanese Internment
Today marks the 98th birthday of civil rights leader Fred Korematsu, who is most famous for the 1944 Supreme Court in which he fought against the internment of Japanese-Americans during World War II. (He lost the case and was sent to a Utah relocation center.)
In 2010, January 30th was proclaimed Fred Korematsu Day by the Governor of California. Korematsu, who died in 2005, received the Presidential Medal of Freedom in 1998 from President Bill Clinton.
Google decided to acknowledge and honor Korematsu today by featuring him on their search page in the Google Doodle, complete with Korematsu wearing his Medal of Freedom.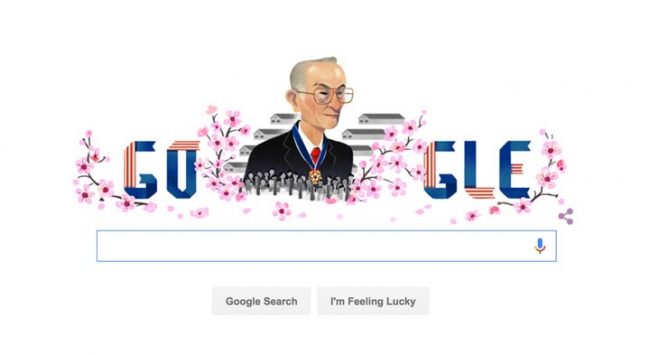 Considering the current political and social climate surrounding President Donald Trump's 'extreme vetting' refugee and travel bans, along with other actions aimed at immigration, many on social media felt this was a well-timed and appropriate doodle.
Subtle yet effective.
Fred Korematsu.
Civil rights activist.
Thank you #GoogleDoodle pic.twitter.com/GSX73GkbP0

— J. Teddy Garces (@JTeddyGarces) January 30, 2017
Google pledged $4M to fight Trump's exec order on immigration. They're also honoring Fred Korematsu, who fought against Japanese internment. pic.twitter.com/uAuTYBRlHg

— Fusion (@Fusion) January 30, 2017
.@Google honors Fred Korematsu's birthday with well-timed doodle, depicting him w/ Cong Medal of Freedom https://t.co/buzgjS2FBA #SCOTUS pic.twitter.com/Bb21wpxvWV

— Josh Blackman (@JoshMBlackman) January 30, 2017
Today's apropos Google doodle is for the birthday of Fred Korematsu, who challenged internment of Japanese Americans during WII in SCOTUS pic.twitter.com/T0QJsSKZZu

— Katherine ☄️Krueger (@kath_krueger) January 30, 2017
google has Fred Korematsu as their logo today

throwing shade

— Zack Pearlman (@ZackPearlman) January 30, 2017
Best subtweet ever! Google put somebody very appropriate on its first page. Fred Korematsu: https://t.co/cWWZDwwUq1 #NoBanNoWall

— Roozbeh Pournader (@roozbehp) January 30, 2017
Also, Google co-founder Sergey Brin was present at the San Francisco protest against Trump's travel ban, explaining that he was there because he was a refugee himself.
Google cofounder Sergey Brin at SFO protest: "I'm here because I'm a refugee." (Photo from Matt Kang/Forbes) pic.twitter.com/GwhsSwDPLT

— Ryan Mac (@RMac18) January 29, 2017
[image via screengrab]
–
Follow Justin Baragona on Twitter: @justinbaragona
Have a tip we should know? tips@mediaite.com