Linda Storm Sorensen, chairwoman of the Delta County Republican Committee in Colorado, insisted that the meme on her Facebook wall, which suggested President Obama was a monkey, was a joke. But, in a separate interview,  her colleagues told reporter she was hacked by liberals.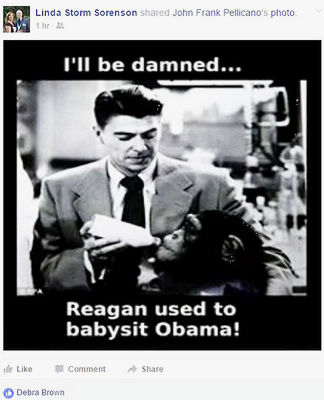 The image is from Ronald Reagan's 1951 film Bedtime for Bonzo, which features the 40th President as a professor who tries to train a chimpanzee.
When Big Media first reported on the meme last week (which has since disappeared from Sorensen's wall), Sorensen said that the meme was a joke.
"I really don't care if people are offended by it," she told Big Media. "Un-friend me. Stop looking at me on Facebook."
However, by the time The Daily Sentinel of Grand Junction, Colorado, investigated it, Sorensen's colleagues said that the meme was likely the result of hacking from liberal sites like Media Matters:
"This whole thing is a hoax. Someone got into the Facebook somehow," said Vic Ullrey, vice chairman of the committee. "It was hacked and somebody got into it, definitely."

When asked why Sorenson was the specific target of the alleged hacking — possibly a federal crime, if true — Ullrey said, "I have no idea," later adding, "Just to damage the Republican Party, no doubt. … Just to make us look bad,"

Sue Whittlesey, DCRCC treasurer, said, "That whole thing is bogus. Somebody hacked Linda Sorenson's Facebook page, and posted that out there."

"We believe it has something to do with (conservative-media watchdog) Media Matters. They've been harassing her the last few weeks," Whittlesey said.
For their part, Media Matters doesn't appear to have reported on Sorenson at all and denies playing any role in the meme's appearance on Sorenson's Facebook wall.
"This is 100% categorically false and the Delta County Colorado Republican Central Committee's racially charged actions and accusations are deplorable," Media Matters President Bradley Beychok told Mediaite. "Their belief that Media Matters played a part here is nothing but a bogus fantasy."
Have a tip we should know? tips@mediaite.com