GOP Debate Moderator John Harwood Trashed Trump in Emails to the Clinton Campaign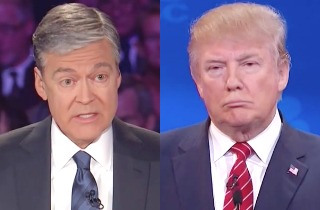 With a new batch of hacked emails from Hillary Clinton campaign manager John Podesta released Tuesday came a new batch of sympathetic and complementary emails sent by New York Times contributor and CNBC host John Harwood.
Harwood appeared dismissive of the several controversies surrounding Clinton, even criticizing his own outlet on more than one occasion. "I must say, though I don't know the terms. I find it weird that NYT made some sort of deal with the guy writing that book," Harwood emailed in April, an apparent reference to the Times' decision to collaborate with the author of "Clinton Cash," the book which first raised questions about the Clinton Foundation.
In another email, Harwood trashed the Times for reporting that Joe Biden was considering entering the race. "Cannot believe Biden story is leading the paper. Correct me if I am wrong, since you would know better, but it strikes me that 'Biden is actively exploring' is the new 'criminal referral of Hillary Clinton' if you know what I mean," he said, a disparaging reference to The Times' reporting on Clinton's emails.
Perhaps most troublingly, Harwood also trashed Donald Trump to Podesta after having served as a moderator at the CNBC Republican presidential debate.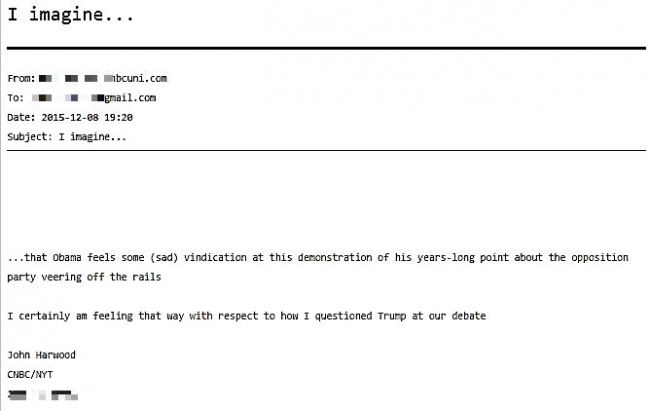 "I imagine that Obama feels some (sad) vindication at this demonstration of his years-long point about the opposition party veering off the rails," he said. "I certainly am feeling that way with respect to how I questioned Trump at our debate."
[Image via screengrab]
—
>>Follow Alex Griswold (@HashtagGriswold) on Twitter
Have a tip we should know? tips@mediaite.com