Leaked Email: Then-CNNer Donna Brazile Gave Clinton Camp Heads-Up on CNN Town Hall Question (UPDATED)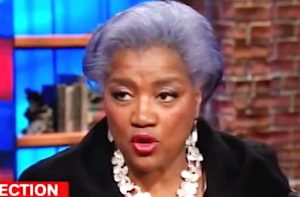 One of the revelations in the Podesta email leak from Wikileaks today is that when Donna Brazile was still at CNN this year––before becoming interim DNC Chair––she gave the Clinton campaign a heads-up about one of the CNN town hall questions they should expect.
The email in question was sent on March 12, 2016, one day before CNN's Democratic town hall. Brazile flagged this topic and said "here's one that worries me about HRC":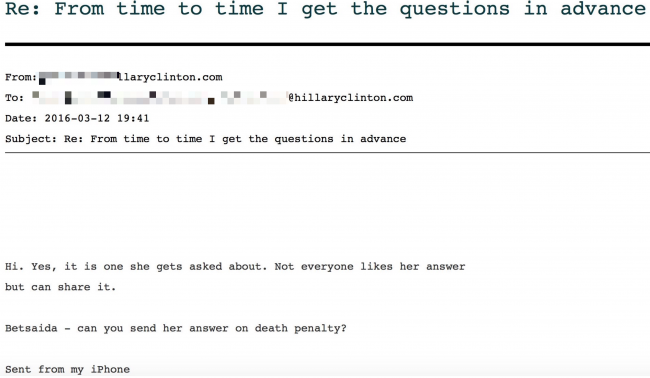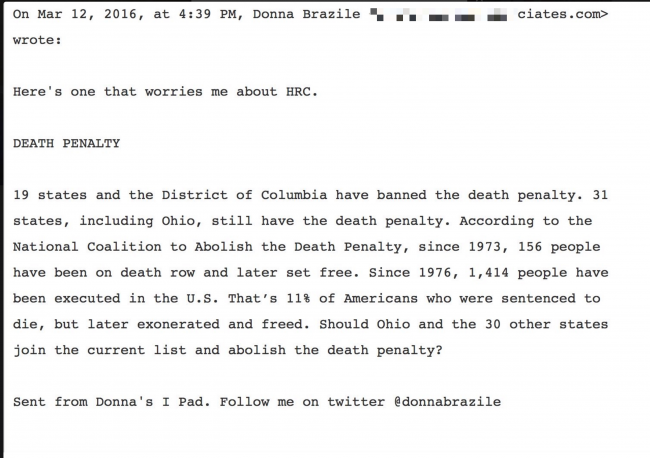 And yes, the death penalty was one of the topics Clinton addressed the next day. Here's the relevant part from CNN's transcript:
QUESTION: I came perilously close to my own execution, and in light of that, what I have just shared with you and in light of the fact that there are documented cases of innocent people who have been executed in our country, I would like to know how can you still take your stance on the death penalty in light of what we know right now.

(APPLAUSE)

CLINTON: You know, this is such a profoundly difficult question. And what I have said and what I continue to believe is that the states have proven themselves incapable of carrying out fair trials that give any defendant all of the rights a defendant should have, all of the support that the defendant's lawyer should have.

And I have said I would breathe a sigh of relief if either the Supreme Court or the states, themselves, began to eliminate the death penalty.

Where I end up is this, and maybe it is distinction that is hard to support, but at this point, given the challenges we face from terrorist activities primarily in our country that end up under federal jurisdiction for very limited purposes, I think that it can still be held in reserve for those.
Earlier this week Brazile reacted to the release of more emails by saying, "I refuse to open them. And I've asked the staff at the DNC and all of our Democratic allies, don't open up that crap, because it's postmarked from Russia."
We have reached out to CNN for comment, and will update accordingly.
UPDATE –– 12:50 pm ET: CNN has provided this statement to Mediaite: "To be perfectly clear, we have never, ever given a town hall question to anyone beforehand."
UPDATE –– 3:23 pm ET: Business Insider has an update from a Democratic party insider claiming this isn't what it looks like:
However, according to a top Democratic party source familiar with the exchange, Brazile's emails were not referencing a question at the town hall. Instead, the question Brazile forwarded on to Palmieri was a topic for conversation on a panel that Brazile was to set to appear on.
However, it is worth noting that the wording of the death penalty question send to Brazile is very similar to the wording of one of the town hall questions:
MARTIN: Secretary Clinton, since 1976, we have executed 1,414 people in this country. Since 1973, 156 who were convicted have been exonerated from the death row. This gentleman here is one of them.
Brazile also says in a statement out today that she would never share questions with candidates ahead of time:
Donna Brazile statement on Wikileaks emails pic.twitter.com/LqblQt6Kjo

— Zeke Miller (@ZekeJMiller) October 11, 2016
[image via screengrab]
H/T Jordan Chariton
— —
Follow Josh Feldman on Twitter: @feldmaniac
Have a tip we should know? tips@mediaite.com
Josh Feldman - Senior Editor