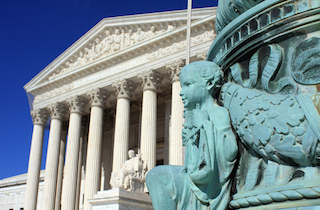 Conservative governors in states affected by the Supreme Court's decision not to take up gay marriage appeals are indicating that they will not issue licenses until forced to do so.
SCOTUS' decision not to hear the cases let the lower court rulings overturning bans on same sex marriage stand, effectively legalizing gay marriage in five states.
But it also potentially impacts cases in six other states under those courts' jurisdiction. While Colorado announced it would begin issuing marriage licenses to same sex couples immediately, governors and attorneys general for Kansas, South Carolina, and Wyoming insisted that the ruling had no bearing upon the undecided cases challenging their gay marriage bans.
RELATED: Christian Conservatives: SCOTUS' Gay Marriage Punt Is Roe v. Wade Plus Dred Scott
In one case in Kansas, a marriage license form was actually handed out to two women, with "man" scratched out, before the county clerk had to revoke it.
"The people have spoken on this," said Kansas Governor Sam Brownback (R), locked in a tight race for reelection. "I don't know how much more you can bolster it than to have a vote of the people to put in the constitution that marriage is the union of a man and a woman."
The ACLU is planning legal action in the remaining states refusing to comply with the appellate court decisions. If a court rules against gay marriage in those or other pending decisions, it would kick the issue up to the Supreme Court for good.
[h/t Associated Press]
[Image via screengrab]
——
>> Follow Evan McMurry (@evanmcmurry) on Twitter
Have a tip we should know? tips@mediaite.com