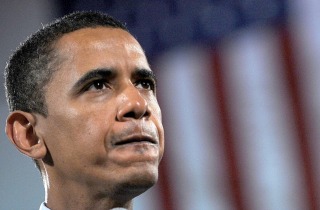 After picking up at least seven Senate seats in this week's midterm elections, the executive director of the National Republican Senatorial Committee is understandably thrilled. So thrilled, that he trolled the Democrats' decisions to sideline President Barack Obama and run away from economic arguments.
Rob Collins told reporters Thursday morning that Obama was their "best messenger," and that they did Republicans a favor for keeping him silent on many of the campaigns. Collins said the Democrats "left their base behind" and "became Republican-lite" because they were so focused on garnering independent votes.
Collins also slammed the Democrats for focusing solely on women's issues and running away from important economic issues — which some said would have spotlighted achievements in job creation, the stock market, and gas prices.
"I can't remember a Democrat who spent any kind of money in a significant way talking about the economy," he said. "If I had a choice between talking about the number one issue we saw in every single poll, and talking about a single issue, I would be talking about the number one issue."
Brad Dayspring, the NRSC's communications director, acknowledged that the Democrats actually had positive things to say about the economy, but was puzzled as to why the Democrats never focused on those issues and stuck to women's issues.
"There is an argument that gas prices were higher when he took office. But they never made it. They stuck to a flawed strategy that talked about birth control and abortion through the election. That was something we never understood."
[CNN]
— —
>>Follow Andrew Desiderio (@forza_desiderio) on Twitter
[Note: Mediaite intern Andrew Desiderio is a student at The George Washington University.]
Have a tip we should know? tips@mediaite.com