GOP Rep. Patrick Meehan Made Unwanted Romantic Advances, Used Public Funds to Settle Complaint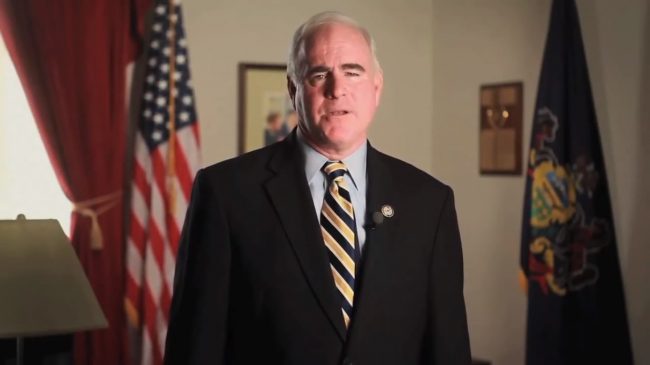 Rep. Patrick Meehan (R-PA) has been seen as a leading lawmaker in combatting the issue of sexual harassment in Congress. As the second-ranking Republican on the House Ethics Committee, he has been involved in investigating numerous congressman in recent months over claims that they engaged in sexual misconduct and harassment. So, umm, about that.
According to the New York Times, Meehan utilized taxpayer funds to settle a misconduct complaint raised against him by a former aide that accused him of making unwanted romantic advances towards her. Meehan had apparently been very interested in the much-younger aide's personal life for a while and ended up expressing his unrequited feelings for her at one point.
But after the woman became involved in a serious relationship with someone outside the office last year, Mr. Meehan professed his romantic desires for her — first in person, and then in a handwritten letter — and he grew hostile when she did not reciprocate, the people familiar with her time in the office said.
The woman brought the complaint due to the workplace environment becoming unbearable, a situation that eventually led to her quitting. The ex-aide eventually reached a settlement with the congressman that paid her thousands of dollars from Meehan's congressional fund.
Due to the shutdown, Congress remained in session on Saturday. Though the House held some votes earlier today, Meehan did not show.
GOP Rep Patrick Meehan, who NYT just reported settled sexual harassment claim, was a no show at the first House vote series today

— Deirdre Walsh (@deirdrewalshcnn) January 20, 2018
Obviously referencing a likely resignation announcement in the near future, NYT's Nate Cohn noted that Meehan's district is one that Republicans did not want to see become an open seat:
GOP Rep Patrick Meehan, who NYT just reported settled sexual harassment claim, was a no show at the first House vote series today

— Deirdre Walsh (@deirdrewalshcnn) January 20, 2018
[image via screengrab]
—
Follow Justin Baragona on Twitter: @justinbaragona
Have a tip we should know? tips@mediaite.com