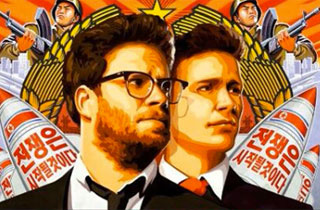 During a radio interview, Sen. Mark Kirk (R-IL) blasted Sony for capitulating to terrorist hackers and canceling the premiere of The Interview, a.k.a. That Comedy About North Korea You've Heard Everyone Talk About.
"It was a terrible lesson to terrorists, to give them what they wanted," Sen. Kirk told radio station WBEZ, in statements caught by BuzzFeed. "As Americans under the First Amendment, we should never have to ask North Korea for permission as to what movie we can. Just think of a previous really good movie — that was Team America: World Police, that was really funny about North Korea."
"You never have to ask the North Koreans for permission for what movie you can see," he added. "I hope that now all the media about this movie makes it a smash hit, and that we see many more movies like it, and teach the North Koreans a lesson about what Americans can and cannot do."
Sadly for Senator Kirk, Sony will probably not release The Interview in any way, shape or form, meaning he'll have to settle for the leaked version, like the rest of us. Sony caved after the hackers, who leaked thousands of embarrassing emails from the entertainment corporation, threatened 9/11-style attacks against theaters that screened The Interview, causing the major cinema chains to drop the movie.
But at least he promised to screen it at his first Senate fundraiser, "so that everybody shows the North Koreans that you cannot edit what we want to see and do in the United States, under the First Amendment." That…would actually make a lot of money, if that were legal. Smart move.
[h/t BuzzFeed]
[Image via Seth Rogen/Twitter]
— —
>> Follow Tina Nguyen (@Tina_Nguyen) on Twitter
Have a tip we should know? [email protected]