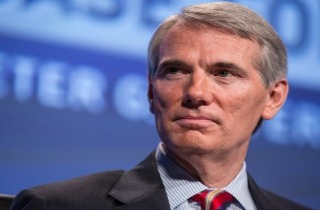 GOP Senator Rob Portman (R-OH) faced several liberal hecklers Tuesday morning while speaking at the "Fix The Debt" conference in Washington and afterwards, took the time to meet with some of them and hear their concerns. Several audience members marched out of the conference chanting, "We want to grow – not slow – the economy!" and Portman joked, "They just gave my speech. I want to grow, not slow, the economy. We may disagree how to do it."
Portman was previously the head of the Office of Management and Budget and was slated to speak about the Republican plan for tax code reforms. Before he could even began his speech, four different audience members began yelling their opposition to Republican changes to Medicare and Social Security, telling stories about the importance of these programs in their lives.
Instead of starting his speech, Portman asked, "Anyone else before we get started?" He was faced with two more audience member stories, one of them from a female from Washington, who said, "My great grandfather died fighting for Social Security." She was then escorted out of the conference and several audience members followed her and began their chanting.
After finishing his speech, Portman took the time to chat with four of the people who had walked out and told one of the event organizers that it was his job to "meet with constituents." The talk seemed to go well, as the group then took a picture together and were heard collectively chanting "O-HIO."
Video of the walkout below:

h/t BuzzFeed
—
>> Follow Anjali Sareen (@AnjaliSareen) On Twitter
Have a tip we should know? tips@mediaite.com