The Who's Pete Townshend: Rock Legend, Grammy Winner, And… Neoconservative?!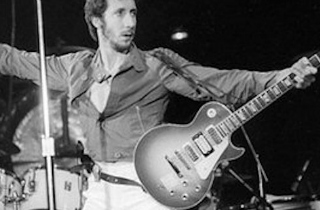 Who'da thunk it? Apparently the Who's legendary guitarist (and the non-inventor of The Windmill™) is kindred spirits with the likes of Bill Kristol and the rest of the Weekly Standard types who believe it is America's duty to police the world and export democracy at gunpoint.
In an interview with ABC's Jonathan Karl, the guitar titan admitted that he's "a bit of a neocon."
Townshend told Karl that he believed Mitt Romney was going to win the presidential election. "I thought he was throwing the money in such buckets," he explained. "And I thought Obama looked tired–because the hurricane must have come like a sock in the chops. I mean, the actual detail of having to deal with all of that stuff in the middle of a campaign."
As a British citizen, of course, Townshend could not have been involved in the election beyond verbally supporting a candidate — something he did not do.
"I try to stay away from American politics, I'm a bit of a neocon," he said, before echoing the sentiments of Kristol, et al: "I like the idea of America as the world's police force, and then we don't have to do it."
He continued to explain his personal politics in more abstract terms: "When we first started in 1967, a lot of our buddies were acid-heads who were trying to escape the draft. I felt denied the right in a sense to have a role in the future of the world as a soldier, as a mover, a shaker. When I found music, and I found a new way to speak and to express myself particularly to those young teenagers that we entertained when we started out, that became my politics."
Townshend also addressed the Who's anthemic song "Won't Get Fooled Again," which includes the famous line used by people of all political stripes: "Meet the new boss / Same as the old boss." The rocker explained that it was "an anti-politics song."
Watch below, via ABC:

— —
>>
Follow Andrew Kirell (@AndrewKirell) on Twitter
Have a tip we should know? tips@mediaite.com