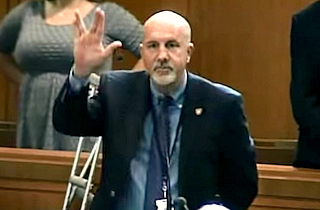 Rookie Oregon State Rep. Bill Post (R) found a unique way to memorialize recently-departed actor Leonard Nimoy last week, and in doing so broke entrepreneurial ground on Things You Really Don't Need to Partisinize.
"Today is a sad day in history," Post said on the floor of the Oregon house. "Today the greatest Republican in the history of the galaxy — he was a legal alien, who believed in prosperity — passed away. Leonard Nimoy."
Post then finished off with what we non-nerds will assume to be Klingon?*
After a website went after Post for assuming fictional-character Spock was a Republican rather than a pro-science believer in government redistribution, Post told everybody to lighten up:
The funniest part about my "Spock tribute" is the amount of people, mostly on the left, who didn't "get it". My wife says it's the "dead pan humor" of my delivery. That was part of the joke! No emotion….logic. I know Spock is not a D or an R. Sheesh. I am so grateful for the wonderful sense of humor that my colleagues in the Oregon House have. They "got it"! What you don't see on the video is how many of them flashed their "Vulcan" sign at me! They loved it, both Democrat and Republican. We had had a tough battle on the floor and I just felt that it was my job (as it is many times) to add a bit of levity to the day, to end the day.

So, to Wendy, the writer from this website below: please use your Vulcan logic and see that even he would have thought it was "illogical" and "fascinating" that someone would remember him with great love and admiration on the day he died.
Set your phasers to troll or whatever.
* Rumors that Post was the Klingon Karaoke guy from Portland's Bodacious Classics in 2003 went unconfirmed at press time.
Watch the clip below, via Bill Post:
[h/t Wonkette]
[Image via screengrab]
——
>> Follow Evan McMurry (@evanmcmurry) on Twitter
Have a tip we should know? tips@mediaite.com