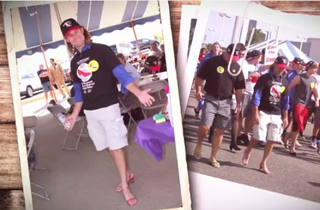 Stewart Mills, the GOP candidate running for Congress in Minnesota's 8th District, recently got called "The Brad Pitt of the Republican Party" by POLITICO. He's handsome, we must admit. But Mills just became one of the few GOP candidates to address the issue of sexual assault against women, which makes him all the more notable.
In an ad released today, his wife Heather Mills called her husband a "guy's guy" who loves hunting, but has a "big heart, too." She continued: "Every year he participates in the Walk a Mile in Her Shoes event. My husband puts on pink heels to raise money for victims of domestic violence. It's one of the strongest things he does."
The charity, which was founded in 2001 and now holds events nationwide, helps to raise awareness about sexual assault, rape, and gender violence by asking men to, quite literally, walk a mile while wearing women's shoes:
"For preventive education, it helps men better understand and appreciate women's experiences, thus changing perspectives, helping improve gender relationships and decreasing the potential for violence. For healing, it informs the community that services are available for recovery. It demonstrates that men are willing and able to be courageous partners with women in making the world a safer place."
We asked Mills's campaign if he plans on incorporating anti-domestic abuse policies into his platform and will update once we hear back. If he does, he'll be one of the rare GOP birds running on such a platform, since the party's not particularly well known for its stance against domestic abuse. (Just look at this breakdown of the GOP House votes against the Violence Against Women Act. Does it sound bad that they voted against such a bill? It really does — to the point that many of them attempted to claim that the did vote for it.)
UPDATE (4:47 PM EST): Mills's communications director Chloe Rockow just sent us the following statement: "In his personal life, Stewart has long been an advocate for victims of domestic violence in Minnesota, and he will continue to fight for them when he's in Washington. In addition to participating in the Walk a Mile in Her Shoes event, Stewart also supports the Women Center of Mid-Minnesota and the Lakes Area Pregnancy Support Center."
The Women Center of Mid-Minnesota is an organization providing support and resources to women seeking to escape domestic abuse situations, while the Lakes Area Pregnancy Support Center helps women through the process of unplanned pregnancy, though it appears that they do not provide abortions or emergency contraception (and, according to this Facebook page, "is committed to providing life affirming alternatives to abortion and sharing the love of Christ with the men and women we serve").
In the meantime, here's the ad, which makes us feel somewhat better about society:
[h/t POLITICO]
[Image via Stewart Mills for Congress]
— —
>> Follow Tina Nguyen (@Tina_Nguyen) on Twitter
Have a tip we should know? tips@mediaite.com