Gossip Reporter Ambushes Bob Woodward About His Watergate-Era Sex Life
Gossip Reporter Ambushes Woodward About His Watergate-Era Sex Life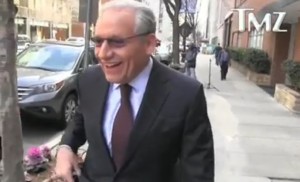 The Simpsons' Disco Stu could be forgiven a strong sense of nostalgia these days, as Washington Post reporter Bob Woodward has been getting more ink that he has since people printed news with ink. The Watergate-era phenom gained new relevance these past weeks by feuding with the White House over one of his columns, then parlaying that into an attention-getting claim of a threat from the White House. Now, Woodward has finally, fully re-arrived: he's being badgered by a gossip reporter from TMZ.
Asked about Robert Redford's effect on his sex life, Woodward gave the sort of answer you'd expect from a guy who named his famous confidential source "Deep Throat."
"When Robert Redford played you in All the President's Men, back in the days" the reporter asked, "did it help you with the women?"
"You have no idea how many women I disappointed," Woodward replied, good-naturedly.
"Did it help you with the female count?" the reporter asked, as Woodward hustled to his car. "But it did help?"
"No," Woodward replied, ducking into his car.
When the film All The President's Men came out, in 1976, Woodward was still married to his second wife (he's currently married to third wife Elsa Walsh), so any other response would have been some kind of news.
Now that Woodward has captured headlines and been dogged by a tabloid reporter, there's only one natural next step: Celebrity Apprentice. Woodward and Busey, anyone?
(h/t Rebecca Schoenkopf)
Follow Tommy Christopher (@TommyXtopher) on Twitter.
Have a tip we should know? tips@mediaite.com