Gov. Chris Christie Hits Back at Dem Opponent Barbara Buono Over Alleged Fat Joke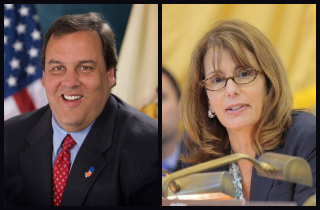 A recently-posted Youtube clip featuring State Senator and Democratic candidate for New Jersey Governor Barbara Buono cracking on Gov. Chris Christie's participation in the "#StrongerThanTheStorm" ad campaign prompted a response from the Governor on Tuesday. Buono told a crowd that "seeing Chris Christie frolicking on the beach is not going to drive me to go to the shore," which Christie took to be a slam about his weight. Buono's camp says it wasn't, but Gov. Christie isn't buying, and had some measured words for Buono. From CBS News Radio:
Christie said at a campaign event Tuesday in Newark that the comment shows Buono is willing to stoop to the same tactic as former Gov. Jon Corzine, Christie's opponent in 2009.

"I'll put up with it, I put up with it four years ago, I'll put up with it now. Won't change the way I feel about myself and about lots of other people who I represent in this state who face a similar challenge I've had in trying to control their weight and be in better shape," the governor said.

…Buono's camp says she was trying to call attention to problems at the shore 10 months after superstorm Sandy — not to the governor's weight.
Here's audio of Christie's comments, from CBS News Radio:
Here's the YouTube video of Buono's remarks, with the joke near the very end:
Governor Christie has come under political attack over his handling of the ad campaign, which is the substance of what Buono was talking about, but the ad campaign is extremely popular in New Jersey.
Despite her campaign's protestations, Sen. Buono was clearly busting on Christie's weight, and if you're listening, Hillary Clinton, this is how not to handle Christie's weight. What Barbara Buono has done is similar to Senate candidate Steve Lonegan's boneheaded attack on Mayor Cory Booker. Lonegan is a lost cause for that Senate seat, but has succeeded in attacking his popular opponent on grounds that play very poorly, making Republicans look awful in the process.
Buono, I'm sorry to say, is an even longer shot than Lonegan, and she's attacking Christie in the only two areas in which he's got near-universal sympathy in the state: his struggle with his weight, and his handling of Hurricane Sandy's aftermath. The least she could do is not make people hate Democrats in the process.
[photos via official Christie/Buono]
Have a tip we should know? tips@mediaite.com