Gov. Chris Christie Reimburses New Jersey For Helicopter Ride To Son's Baseball Game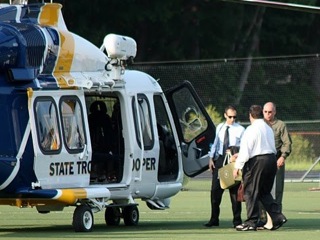 Gov. Chris Christie's fiscally austere image took a bit of a hit this week as he decided to use a taxpayer-funded helicopter to go to his son's baseball game (and use a taxpayer-funded limousine for the rest of the trip). Given that New Jersey isn't a formidable land mass and the helicopter cost $12.5 million, many in the state– especially those who Christie has demanded have their salaries reduced– were in an uproar, and they seem to have impacted the governor: Christie's office will now reimburse the state.
Gov. Christie's spokeswoman announced today that the luxury ride from Iowa to New Jersey would no longer be on the people's tab, according to the AP:
A spokeswoman for New Jersey Gov. Chris Christie says the governor and State Republican Committee are reimbursing the state for all personal use of a state police helicopter, which includes two trips to watch his oldest son's baseball games.

Spokeswoman Maria Comella says Christie has paid $2,251 to the state to cover the cost of all trips.

Comella also says the state GOP has paid $919 to cover the cost of Christie's trip Tuesday when used the helicopter to fly 75 miles from a game in Montvale to Princeton to take meeting with a group of top GOP campaign contributors from Iowa.
This comes as a change in attitude from the Christie administration, which had initially refused to refund the state for the travel expenses. New Jersey's state debt topped $32 billion at the end of the past year and was a major campaign issue partially contributing to the success of Gov. Christie's campaign. Now if only Christie could reimburse New Jersey taxpayers for the extra $440,000 a year his cabinet's salaries amount to over the Corzine administration, he may actually do something to improve his approval ratings.
Watch the press conference via CNN:
Have a tip we should know? tips@mediaite.com