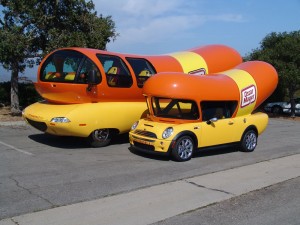 We get that a lot, actually.
Gawker's Jeff Neumann took a shot at Mediaite Thursday morning over the length and girt of our coverage of "Weinergate," noting that "other stuff is happening that might be considered so newsworthy," and laying the blame at the feet of Mediaite founder and publisher Dan Abrams. While we're glad we could get Neumann to stand up and take notice, we think he's being too hard on us.
First of all, Neumann wrongly affixes responsibility for our overstuffed coverage to "sensitive sexy man Dan Abrams."
Dan can argue the adjectives, but he's already made it abundantly clear that he "do(es)n't edit the site," so suggestions that he is directing Mediaite's coverage of Weinergate is "thoroughly insulting" to those of us with a hands-on role in the coverage.
The argument seems to be that this story lacks heft (although Jon Stewart and Lawrence O'Donnell might disagree), and to some extent, that's a fair observation. On the other hand, Mediaite's primary focus is media criticism and analysis, so if we are showing a lot of Weiner, it's because there's a lot of Weiner out there. You might as well criticize the ground for being wet because it's raining. As long as the media outlets we cover continue to flog Weiner, we will continue to cover them covering it. As it stands, this story shows little indication that it will peter out anytime soon.
Neumann bolsters his case with a screen shot of the top third or so of the site, which, by a quirk of the site's layout, shows wall-to-wall Weiner, but our entire front page features about a 50/50 ratio of signal-to-Peen.
Still, maybe Gawker has a point, maybe we could learn a lesson from them, and lead with a story that really, really matters: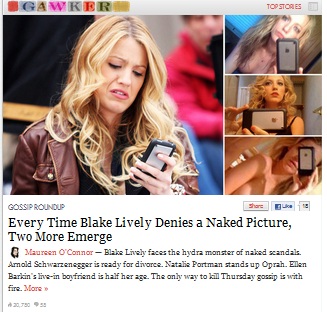 Pulitzer, here we come!
There's probably a metaphor about a splinter in the eye here, but I think we've all seen enough wood for one week, haven't we?
All kidding aside, our coverage of Weinergate hasn't just been of the point-and-laugh variety (some of it has), but has also sought to place the uniquely new media aspects of this story into a larger context, and illustrate the pitfalls of instant communication without instant access to all of the facts. Oh, and puns. God, yes, there have been puns.
In the final analysis, though, there probably are better things for reporters to do than chase around an impressive rig. But enough about Palin's bus tour.
Have a tip we should know? tips@mediaite.com