Gov. Paul LePage Takes Down 'One-Sided' Mural Depicting Maine's Labor History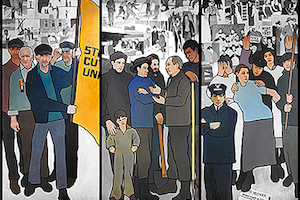 Maine Governor Paul LePage has not been making friends with labor workers and unions recently. However, having successfully antagonized flesh and blood workers, LePage has now set his sight on the horrible paint and canvas ones as well. In a move that worker advocates described as "mean spirited," LePage has decided to take down a 36-foot mural that depicts Maine's labor history from the walls of the state's Department of Labor. The reason? He decided it was too "one-sided in favor of unions."
From the New York Times:
The three-year-old mural has 11 panels showing scenes of Maine workers, including colonial-era shoemaking apprentices, lumberjacks, a 'Rosie the Riveter' in a shipyard and a 1986 paper mill strike. Taken together, his administration deems these scenes too one-sided in favor of unions.

A spokeswoman said Mr. LePage, a Republican, ordered the mural removed after several business officials complained about it and after the governor received an anonymous fax saying it was reminiscent of 'communist North Korea where they use these murals to brainwash the masses.'

'The Department of Labor is a state agency that works very closely with both employees and employers, and we need to have a décor that represents neutrality,' said Mr. LePage's spokeswoman, Adrienne Bennett."
This situation kind of reminds me of an old joke by Louis C.K. (NSFW clip). Ok, stick with me for a second now because this is going to seem like a stretch.
In the bit, C.K. describes going to a foreign grocery store and realizing that some people eat the genitals of ducks. Sitting there, looking at the food, C.K. couldn't help but think, "Can we possibly dominate a species more than that? Than that we're selling their vaginas in a f**king barrel?" He explains that he imagines ducks seeing this and saying, "Dudes, you won the war. Take it easy."
I know this seems unrelated, but that's the way I feel about LePage's decision. Dude, you cut the budgets. Take it easy. You really don't need to take down a mural of laborers that sitting, quite appropriately I would say, in the Department of Labor.
LePage's spokeswoman promised that the mural would be hung in a museum since the Governor "respects history." As of yet, there is still no word on where the union's vagina barrel will go.
Have a tip we should know? tips@mediaite.com