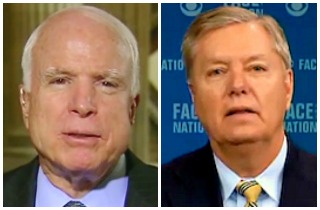 Senator Rand Paul has been attacked by some of his Republican rivals for having certain policies in common with President Obama. Well, to push back against that, Paul went on Fox yesterday and called John McCain and Lindsey Graham "lapdogs" for Obama.
Paul argued that both of them have backed Obama's foreign policy on numerous occasions, while he has very firmly stood up against it.
Well, of course, Paul's two rivals picked up on this news and responded this afternoon. First, Graham told reporters that if Paul is the GOP nominee, the entire party will risk losing on foreign policy for the rest of the election, because he thinks Paul's "record on this issue is quite frankly behind that of President Obama."
And in direct response to the "lapdogs" line, Graham basically said he couldn't be more critical of the president's foreign policy if he tried.
As for McCain, this one tweet sums up succinctly how he reacted:
McCain had a very hard time containing his laughter when I asked him for a response to Rand Paul's "lapdog" diss

— Seung Min Kim (@seungminkim) April 22, 2015
After the laughter died down, though, McCain responded, "I'll let people be the judge as to whether there's anyone, particularly in this administration, that thinks that Lindsey Graham and I are lapdogs."
And then… well, it's probably best here to just quote this part verbatim:
He then mimicked a dog barking. "I mean, c'mon."
You can watch Paul's original comments here, via Fox News:
[image via screengrab]
— —
Follow Josh Feldman on Twitter: @feldmaniac
Have a tip we should know? tips@mediaite.com
Josh Feldman - Senior Editor