Graham-Cassidy Health Care Bill Shows GOP Mainstream is as Anti-Woman as Trump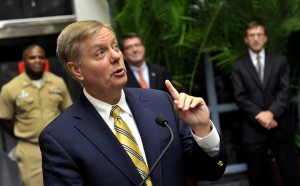 A lifetime's worth of sexist comments and more than two years in the national political spotlight seem to have made President Trump the face of the GOP War on Woman. And as, over the months, traditional Republican lawmakers have been distancing themselves from Trump's comments on women (think: July this year when he blasted MSNBC's Mika Brzezinski for allegedly having plastic surgery) and general extremism, some seem to think this is helping them distance themselves from sexism.
In the summer of 2015 after then-candidate Trump suggested Megyn Kelly had been menstruating simply because she lobbed "difficult" questions at him at the debate, Erick Erickson, then at conservative news outlet Red State, disinvited Trump from a conservative conference that would feature the other Republican presidential candidates.
In either case, disavowals of Trump's sexism and anti-woman persona as a politician from traditional Republican lawmakers ring particularly hollow this week, as the Graham-Cassidy health care bill/latest Obamacare repeal attempt emerged. The Congressional Budget Office will not be able to complete a report about how the bill will affect access to health care before the senate votes on the bill. But like its previous incarnations, it's clear that on top of causing disabled, old, and sick Americans from losing access, it would also be a disaster for women's rights.
Notably, the bill was introduced by supposed Republican moderates, the charming South Carolina Sen. Lindsey Graham and Louisiana's Bill Cassidy.
The bill defunds Planned Parenthood and slashes funding for Medicaid, which pays for half of all births in America and provides family planning services to 13.5 million women. According to experts, block grants the federal government would provide to states would not be enough to make up for these cuts and provide women and families with adequate reproductive health care. 
On top of denying many low-income women the ability to prevent pregnancy, have abortions, and, in essence, control their bodies, "health care" in the eyes of Republican lawmakers also denies poor women adequate maternal care. It's confounding that any Republican could support the bill and still identify as "pro-life" rather than anti-woman.
Like many Republican policies where reproductive health care is concerned, this should show that Trump is not some outlier in his party where sexism is concerned. His words about women and failure to adequately represent them in his cabinet and judicial appointments have dark implications, but so do policies that disenfranchise women, even if they're more overt and more easily hid behind rhetoric about freedom and the sanctity around all life. Sexism doesn't have to be loud to be sexism. It can be quietly, sneakily entwined with health care and workplace legislation and be just as harmful to women.
The Graham-Cassidy bill follows Vermont Sen. Bernie Sanders' Medicare for All bill, which just began to gain traction last week when a handful of Democratic party stars like Cory Booker, Elizabeth Warren, Kamala Harris, Kirsten Gillibrand and Al Franken supported it. Sanders' bill would provide single-payer health care, and cover all women's health services, including abortion.
This apparent 180-degree reversal on women's rights that we're seeing in the senate shows not only the extent to which women's living standards are dictated by our lawmakers, but also just how mainstream disregard for women's rights is throughout the Republican party. 
This is an opinion piece. The views expressed in this article are those of just the author.