It's always been my understanding that the Grammys are Hollywood's Halloween of sorts. For one night, all bets are off. You can stray from safe, bring the hem line up, and add an inch (or 5) on your heel. Alas, this year's Grammy's seemed to pull a page from the always safe Oscars, consisting of a lot of white (Marisa Miller, Carrie Underwood, Rihanna), a bunch of yawns, and too many huge misses. Here's a look at the best (and worst!) of what the red carpet had to offer tonight.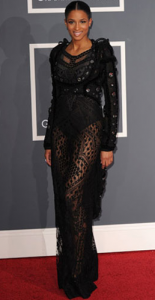 Ciara gets major props for sporting genius designer Givenchy, whose show in Paris last week sent style editors in a frenzy of excitement, but the outfit – I believe it was some sort of jumper – may go down as 2010 red carpet worst. There was too much lace and too many add ons and definitely distracted from the artist's beauty and the perfection that almost always defines Riccardo Tisci's line.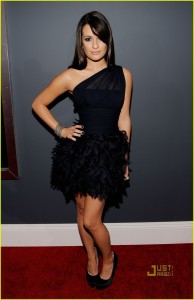 While Lea Michele didn't have a total miss — after all a burst feathers is always a safe bet when trying to be a tad edgier than usual — needing a press agent to check the designer of the mediocre dress you're wearing is a major red carpet no no. It was Romona Keveza, by the way.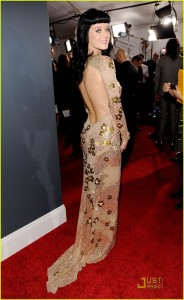 Katy Perry's Zac Posen nude dress looked like a really good arts and crafts project and the fit caused her to be the unfortunate victim of the always red-carpet-prevalent pancake boob. Mr. Posen, I enjoyed the cut out in the back, but the color and glued on metal discs easily made her fiance the best part of her outfit.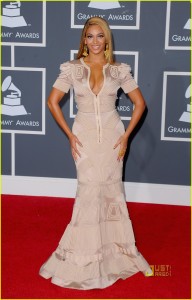 Beyonce's Stephane Rolland grew on me. It had great contouring, as E! Entertainment's Jay Manuel noted, and an eye catching Aztec pattern, which we will all be seeing more of thanks to Gucci's Spring 2010 collection. However, the dress looked incredibly heavy and the zipper seemed unnecessary.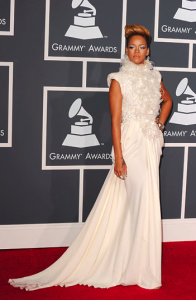 Rihanna's gorgeous Elie Saab gown was classic and perfectly fitted. Unlike most on the red carpet, she was careful not to over accessorize. The detailed bib of the dress spoke for itself and needed nothing else to take away its thunder. The bottom fell flawlessly and was a refreshing counterpart of the beautifully ornate upper bodice.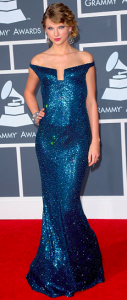 Taylor Swift rarely has a red carpet mishap and tonight was no exception. It has been wonderful watching her taste become more defined and less poofy throughout the few years she's been walking the red carpet. She looked absolutely stunning in her Kaufman Franco sequin dress. It was delightfully sparkly, as per usual for Swift, and really complimented her body. Amazing color and exquisitely thoughtful neckline made her dress one of the evening's best.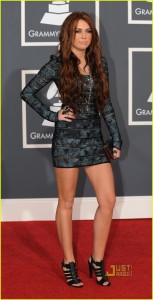 Miley Cyrus looked surprisingly tame tonight in a blue banded Herve Leger mini dress. Her nude lipstick almost threw the entire ensemble off, but I was impressed by her choice, considering her usual red carpet disasters.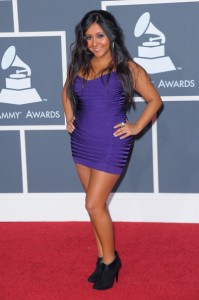 And no 2010 Grammys mention can be complete without the anticipated presence of everyone's favorite Jersey Shore cast member, Snooki. I'm not sure who made her dress, I'm guessing it was some sort of Max Azria piece. The poof-free reality star chose an appropriate purple mini dress for the evening.

Have a tip we should know? tips@mediaite.com