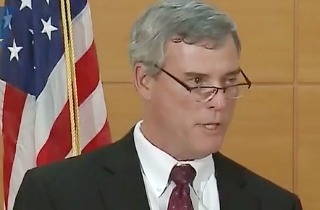 An unidentified grand juror has filed suit against Ferguson prosecutor Bob McCulloch to lift the moratorium on discussing the case against officer Darren Wilson.
The juror argued that the secrecy normally required of grand jurors should be overruled to allow jurors to speak out on the case, since McCulloch has given a misleading impression of the proceedings.
"The current information available about the grand jurors' views is not entirely accurate — especially the implication that all grand jurors believed that there was no support for any charges," the complaint states. "Moreover, the public characterization of the grand jurors' view of witnesses and evidence does not accord with [Doe]'s own,"
The suit also alleged McColluch essentially muffed the case, the feeling of many who wanted a Wilson conviction, including the Brown family's attorney.
"The presentation of evidence to the grand jury investigating Wilson differed markedly and in significant ways from how evidence was presented in the hundreds of matters presented to the grand jury earlier in its term," the complaint alleges. "The investigation of Wilson had a stronger focus on the victim than in other cases presented to the grand jury. From Plaintiff's perspective, the presentation of the law to which the grand jurors were to apply the facts was made in a muddled and untimely manner compared to the presentation of the law in other cases presented to the grand jury."
The ACLU filed on behalf of the juror and noted previous instances in which grand jury secrecy was waved when the court determined an overriding interest.
[h/t St. Louis Public Radio]
[Image via screengrab]
——
>> Follow Evan McMurry (@evanmcmurry) on Twitter
Have a tip we should know? tips@mediaite.com