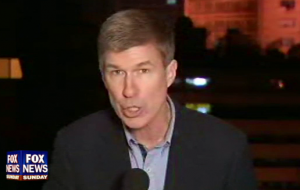 You may recall that Fox News reporter Greg Palkot was blindfolded and severely beaten along with video journalist Olaf Wiig while the two were covering the uprising in Cairo.
Although the two were quickly flown from Cairo to London for treatment, Palkot was seen briefly by an Egyptian orthopedist named Al-Moataz Bellah Youssef at Al- Demerdash hospital.
As Palkot watched coverage of celebrations across Cairo following the resignation of former Egyptian president Hosni Mubarak, he received an email from the doctor, who had asked for Palkot's card and email address after treating him. The doctor wanted to express his hopes for Egypt's future to the reporter. In a post on FoxNews.com, Palkot shared portions of the doctor's heartfelt email:
…I can't express my joy and ecstasy about what happened today. I wouldn't have imagined it. I was telling my mother yesterday (that is Thursday, when the rumors were flying that Mubarak will resign) that I expected someone to wake me up and tell me that we are still on the 24th of January.

After the 25th, Egypt never was and never will be the same. We are in a crossroads now, but we have come this far. I think we can clear any obstacle that gets in the way….

…You won't be seeing that old Egypt again. We will end the emergency law, the detention centers, the torture, the police thugs, everything…

Every bad thing that Mubarak did to dig his claws deeper into power will be undone. Just pray for us….
Palkot reminisced about his experiences in Egypt, noting that – while he and Wiig suffered greatly at the hands of those who meant them harm – people like Dr. Youssef showed them the utmost care. "While we had a taste of the bad people of the Mubarak regime," Palkot recalls, "we met many more of the good people of Egypt, including this young man, who treated us with care and professionalism."
It's always interesting to us to view a story beyond the headlines and news reports, and to be able to attach faces and names to history's unfurling timeline. Thanks, then, to Palkot and Moataz for offering a glimpse at a very poignant – yet simple – interaction between two people directly impacted by such a staggering event.
h/t Fox News
Have a tip we should know? tips@mediaite.com