Guardianing While Black: Police Seize 13 Year-Old White Girl From Legal Guardians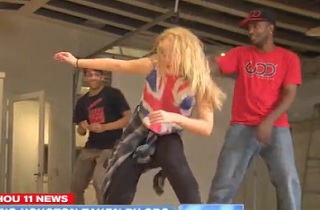 As of this week, you can add waiting for a school bus and carrying out legal guardianship of a 13 year-old white girl to the list of things it's no longer safe to do while black. Over the weekend, 13 year-old Landry Thompson was handcuffed and handed over to Child Protective Services after Houston police surrounded the car that she and her dance instructors and temporary legal guardians were pulled over in. They were checking their GPS while openly, and with premeditation, being black.
So much of this sounds oddly familiar. From KHOU:
"We were on the GPS trying to figure out where the hotel was.  And we sat there and we dozed off."

They said before they knew it, the police showed up and surrounded the car.

"And so I was kind of freaked out and surprised by it," said Landry.

"They just pulled us out of the car and put our hands behind our backs like we were criminals," added Hurd.

"The officer asked me 'who's the girl?' and I said 'she's my student,'" said Hurd.

"I told him I had a notarized letter from her parents stating that we have full guardianship over her while we're here."

All three dancers said say they pleaded with the police repeatedly telling them their story, but that in the end, none of that seemed to matter."

"They still put handcuffs on me and it really scared me," said Landry.  "And they put me in the back of a cop car and I was terrified."

Landry was taken to Child Protective Services.  Her mom couldn't believe it when she found out.
The police told Destiny Thompson, Landry's mom, that she would have to fly to Houston to pick up her daughter, but after 11 hours, released her back into the custody of her dance instructors.
Aside from similar racial themes, this incident shares something else in common with the recent arrest of three teenagers who were waiting for a school bus. In both cases, faced with a black adult authority figure trying to intercede, the police chose to ignore them and escalate each situation. Even if you somehow concede that the police had some reasonable suspicion to surround the car, they can still read, can't they?
As if the campaign to normalize the view of young black men as threats weren't frightening enough, now it seems as if there is no black person respectable enough to intercede on their behalf. Maybe the police will leave you alone if you bring your own Barack Obama everywhere with you, but make sure he has his birth certificate.
Here's KHOU's report on the incident:
[photo via screengrab]
(h/t C&L)
Have a tip we should know? tips@mediaite.com