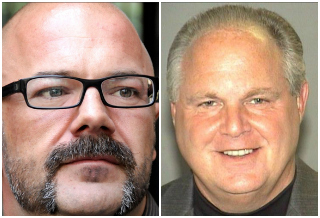 The Dish's Andrew Sullivan officially threw down the religious gauntlet Tuesday with a headline that reads "Rush Limbaugh Knows Nothing About Christianity." The columnist and blogger was responding to a recent rant from Rush Limbaugh about "How Wrong Pope Francis Is" about the "utter evils of capitalism."
"The Pope of the Catholic Church really is offering a rebuttal to the Pope of the Republican party, which is what Limbaugh has largely become," Sullivan writes, giving the conservative radio host come credit for recognizing the difference between the two outlooks on Christianity.
"In the Church of Limbaugh, market capitalism is an unqualified, eternal good," he continues. "It is the ever-lasting truth about human beings. It is inextricable from any concept of human freedom. The fewer restrictions on it, the better. In that cocooned, infallible context, of course, Pope Francis is indeed a commie."
Sullivan proceeds to dismantle Limbaugh's theory that Pope Francis' denouncements of the "culture of prosperity" would have been "unthinkable" under Pope John Paul II by presenting some quotes from that predecessor that appear sympathetic towards a more "Marxist" way of thinking.
"Limbaugh has obviously never read the Gospels," Sullivan writes. "He has never read the parables. His ideology is so extreme it even trashes, because it does not begin to understand, the core principles of capitalism, as laid out by Adam Smith."
And later, "Sorry, Rush, but if you think this critique of capitalism is something dreamed up by the current Pope alone, you know nothing about Catholicism, nothing about John Paul II, and nothing about Christianity."
Sullivan's heavily-sourced take down will be difficult for Limbaugh to refute but also likely hard for him to resist. Chances are there's an extended Andrew Sullivan attack coming soon on The Rush Limbaugh Show.
Read Sullivan's full post at Dish.AndrewSullivan.com.
[photos via Wikimedia Commons]
— —
>> Follow Matt Wilstein (@TheMattWilstein) on Twitter
Have a tip we should know? tips@mediaite.com