Gun Advocate Larry Pratt: Second Amendment Exists to Combat People Like Piers Morgan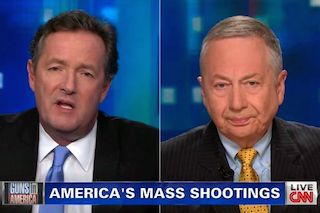 During an interview with conservative radio host Bill Cunningham this week, Gun Owners for America director Larry Pratt explained why he believes members of the mainstream media have "such a bias against the Second Amendment." According to Pratt, people like CNN's outspoken gun control advocate Piers Morgan, who think they are "born to rule" don't like the idea regular people having access to guns.
"Its real purpose is to serve as a restraint on government abuse," Pratt said of the Second Amendment. "And since they want to be involved in government abuse, they kind of take it personally, I think. The Second Amendment is intended for people just like them — or perhaps we could say, like Piers Morgan — those who were born to rule and we were born to be ruled. And for us to have guns kind of upsets that order of things that they think ought to be."
Pratt went on to tell Cunningham a story about an altercation one of his organization's members had with an unnamed member of Congress about the gun issue. "Apropos of nothing, the congressman –- congresswoman, actually –- said, 'You want to shoot me, don't you.'" Pratt recalled.
"Well, that's probably a healthy fear for them to have," Pratt said of congress members who want to restrict gun rights, "even though that's not the guy's –- he wasn't saying anything about that, it wasn't in his demeanor. But you know, I'm kind of glad that's in the back of their minds. Hopefully they'll behave."
Morgan previously confronted Pratt for his pro-gun views in December 2012, just four days after the Sandy Hook Elementary School shooting occurred. "You are a dangerous man espousing dangerous nonsense. You shame your country," Morgan told Pratt at the time, adding, "You're an unbelievably stupid man, aren't you?"
Listen to audio below, via WLW, as clipped by RWW:
[h/t Raw Story]
[photo via screengrab]
— —
>> Follow Matt Wilstein (@TheMattWilstein) on Twitter
Have a tip we should know? tips@mediaite.com