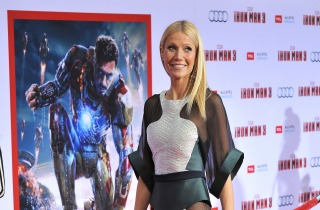 The point of the SNAP challenge is to experience how low-income families manage to eat on less than $29 per person per week, which Gwyneth Paltrow probably just failed.
Paltrow, the lifestyle angel who publicly announced earlier this week that she would undergo the SNAP Challenge, was spotted at the Los Angeles restaurant Animal to attend a promotional event for the Jon Favreau film Chef, which is about a chef at a high-end restaurant who decides to open a food truck.
Naturally, the event had a lot of food: a source told E! Online that the dinner cost $80 a plate, which equals about 2.75 weeks of meals for a person on a SNAP budget. It's unclear whether Goopy-doop ate any of the barbecue-inspired fare at the event — the SNAP challenge says that you must count the cost of meals out in the $29 budget — but from experience, we can tell you that it's incredibly hard to turn down free food at an event like this, especially one that's promoting a movie about a chef.
According to the SNAP Challenge's website, here's how hard Paltrow failed:
Each person should only spend $4.15 per day on food and drink.
All food purchased and eaten in this time must be counted in total spending – this includes dining out.
During this time, do not eat any food purchased prior to the start of the Challenge.
Whenever possible, avoid accepting free food from family, friends and coworkers since these opportunities are not always available to those in need.
The outrage over Paltrow's fake SNAP challenge is an issue that's managed to unite people from all along the political spectrum, from Jezebel to Michelle Malkin, mostly due to the fact that Paltrow seems to have no idea that her lifestyle brand is so stupidly, absurdly, impossibly out-of-touch with nearly all of humanity, and sometimes even verges on bwuhhhhhhhhhh?!?!?!?!?!
[E! Online]
[Image via Shutterstock]
—
>> Follow Tina Nguyen (@Tina_Nguyen) on Twitter
Have a tip we should know? tips@mediaite.com