Hacked Emails Show Clinton Campaign Wanted Debbie Wasserman Schultz Out As DNC Chair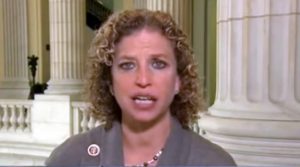 The drip drip drip continues from WikiLeaks as each day brings another round of hacked emails purportedly from Hillary Clinton ally John Podesta's account. Today's dump brings us the revelation that members of Clinton's campaign apparently wanted to dump Debbie Wasserman Schultz as chair of the Democratic National Committee months before she resigned.
An email from December 2015 includes a number of attachments that discuss strategy up to the Democratic National Convention and how Hillary's team should deal with the DNC after she secures the nomination.
According to the document, the campaign recommended bringing in someone to do the day-to-day work during the spring and early summer but to not replace Wasserman Schultz until after the convention.
Until the convention, we recommend that we keep Debbie Wasserman Schultz as the Chair of the party, but bring on a Chief of Staff to drive the day-to-day work.

Whether Debbie Wasserman Schultz should remain as the Chair of the DNC is an open question for discussion. However, we do not recommend any change in the Chair before the convention.

As soon as we become the presumptive nominee, we will need someone senior at the DNC to manage operations on a daily basis. We recommend installing someone as Chief of Staff, who will oversee the budget, fundraising, staffing and general election operations. Amy Dacey should continue to manage party affairs.
The doc also showed three options of what to do with DWS following the convention, with none of them really recommending she retain any real power with the DNC. The first option would be to keep her as chair, but that the role would only be ceremonial with the Chief of Staff doing all the work.
Another option had her be used in a surrogate and fundraising role as chair but bring in a general election chair who would work with the Chief of Staff. The recommended general election chair would be ex-Michigan Governor Jennifer Granholm. It was explained that this option held the possibility of "creating a two-headed monster."
The final option was just to completely replace DWS and give the role to Granholm post-convention with it being announced that the convention would be Wasserman Schultz's final responsibility.
Of course, Wasserman Schultz ended up resigning under pressure when hacked emails came up just before the convention, leading to Donna Brazile serving as interim chair for the rest of the election.
[image via screengrab]
–
Follow Justin Baragona on Twitter: @justinbaragona
Have a tip we should know? tips@mediaite.com