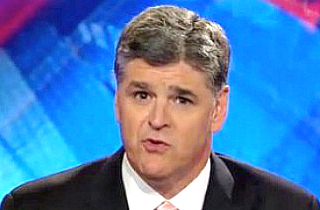 Thanking U.S. President Barack Obama for deciding to send "humanitarian aid" to the Yezidi people is apparently something you should avoid as a guest on Sean Hannity's radio show.
Yezidi Human Rights Organization chairman Mirza Ismael called into the show Monday afternoon and spent several minutes explaining the horrors faced by minorities as ISIS forces push further into Iraq and reportedly kill many Christians and Kurdish groups. Towards the end of his call, however, Ismael thanked the president for deciding to send U.S. military aid to his hometown, prompting some swift pushback from Hannity.
"Yazidi only get two choices: Whether to convert or whether to die," Ismael initially told Hannity. "[ISIS forces] want to convert the whole world to Islam," he continued. "We are facing a total genocide."
The spokesman indicated that some of his family is still missing in the region, and he alleged that ISIS troops have beheaded people as a warning to others who resist conversion to Islam.
After explaining his story, Ismael pivoted to the American response and said: "I would like to thank Mr. Obama for his quick decision and action."
"What do you mean his quick decision?" Hannity interrupted.
"He made a quick decision to send humanitarian aid to the Sinjar mountain, which he did in a matter of hours," Ismael replied. "That was greatly appreciated. But we need more. We need to save those innocent people."
But Hannity countered with this suggestion, connecting Obama to the current crisis:
The president bragged about leaving Iraq. I would argue that all these cities — we had, what, 4,000 Americans die in Iraq — then city after city after city that Americans fought, died, and bled for were taken over by these radicals.
Listen below, via WOR:
[h/t MofoPolitics]
— —
>> Follow Andrew Kirell (@AndrewKirell) on Twitter
Have a tip we should know? tips@mediaite.com