Hannity: 'Why Does Donald Trump Need a White House Press Office? He Doesn't'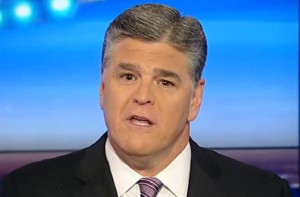 On Monday, Sean Hannity took things up a notch with his recommendation that Donald Trump should lock the media out of the White House.
As the Fox pundit celebrates Trump's victory, he has suggested multiple times that the President-elect should blacklist a wide variety of news outlets over their "collusion" with Hillary Clinton. During a conversation yesterday with Matt Boyle on Breitbart News Daily, Hannity opined that the election has exposed the great majority of the press as corrupt or clearly biased.
"It is the most underreported story out there. They're not going to cover the fact that they themselves colluded with Clinton, helped Clinton, in some cases, gave questions to her or sought questions for Trump or for Cruz through the DNC…," Hannity said. "They're all in this hyperventilating mode about 'fake news' now, but they are fake news. That's them. It's now on display for the world to see."
Hannity also expressed his view that the media's credibility has been crippled by their own surprise over Trump's victory. He also opined that, beyond taking credentials away from members of the White House press corps, Trump might as well consider doing away with the entire office:
"People don't need them any more. They're done. I suggested the other day that if any of these organizations were involved in collusion with the Clinton campaign, why do they get a seat in the White House press office? Why does Donald Trump need a White House press office? He doesn't. You know, you can have a pool person that's standing by if, God forbid, there's any bad news about the president that the country needs to know, but his own staff could tweet it out, for crying out loud."
Listen above, via SiriusXM.
[h/t Oliver Darcy]
[Image via screengrab]
— —
>> Follow Ken Meyer (@KenMeyer91) on Twitter
Have a tip we should know? tips@mediaite.com