'Because That's My Choice!': John McCain Refuses to Comment on Trump's Flag Burning Tweet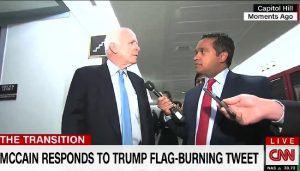 Well, it appears one Republican lawmaker in Washington doesn't want to deal with questions revolving around President-elect Donald Trump's latest self-made controversy.
Hours after Trump created a debate over the First Amendment by tweeting out that he felt those who burned the American flag should face prison or loss of citizenship, CNN's Manu Raju caught up with Sen. John McCain (R-AZ) to get his take. And McCain wasn't biting.
The famously gruff former Presidential nominee began by saying that there was a Supreme Court decision already made on the issue but he didn't approve of it. He added that he felt people should express themselves in other ways.
When Raju pressed him on Trump's comments about loss of citizenship, McCain made it clear he wasn't going to provide any further comments.
"I'm not commenting on Mr. Trump's comments," the Arizona Senator said. "I have not and will not."
After Raju pointed out that Trump is now the incoming POTUS and McCain is a senior member on Capitol Hill, the GOP stalwart snapped back.
"Because that's my choice," he exclaimed. "Because it's my choice and i was just re-elected by the people of Arizona, and during that campaign I did not comment on Mr. Trump. I will continue to not, because I have to defend this nation."
He further chastised Raju by saying it may be his priority to get reaction to every one of Trump's comments but his "priority is to try to defend the nation and the men and women who are serving it."
Watch the exchange above, via CNN.
[image via screengrab]
–
Follow Justin Baragona on Twitter: @justinbaragona
Have a tip we should know? tips@mediaite.com