Hannity Will Interview Supposed Clinton 'Operative' Whose Story Appeared in Enquirer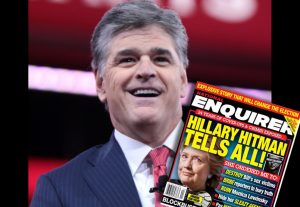 On his primetime show Monday night, Sean Hannity will interview a person claiming to be a shady fixer responsible for covering up Clinton scandals over the years, whose story has only ever appeared in the tabloid National Enquirer.
The Trump-friendly publication, in whose pages the so-called "Mr. Fix It" divulged his story, made the announcement Monday:
Hillary Clinton's shady Mr. Fix It will tell all on TV tonight, just days after his explosive confession in The National ENQUIRER hit the stands.

The man who's rocked Washington, D.C., will join Sean Hannity on tonight's episode of "Hannity" — airing on the FOX News Channel at 10 p.m. EST — to reveal his true identity at last.
The teaser appearing on the official website for Hannity's evening show confirms that the episode will include "a reported Clinton 'fixer' speak[ing] out."
The Enquirer claims that "this man played a key role in some of the Clintons' dirtiest schemes: the plot to take down Bill Clinton mistress Monica Lewinsky, sleazy deals to buy women's silence, and so much more."
This wouldn't be the first time the Fox host and the supermarket tabloid have worked in concert. Hannity has reliably been one of Trump's most vocal media supporters, and during the GOP primary, the Enquirer was the outlet for some of the more inflammatory and dubious attacks against Trump's opponents.
The tabloid speculated that Ted Cruz's father was involved in the assassination of JFK and that the Texas senator was a serial philanderer. Trump subsequently repeated these yarns on the campaign trail despite the fact that they were not corroborated or reported anywhere else. Trump has defended the tabloid's credibility in the past.
The Enquirer also published conspiracy theories about Hillary Clinton's secret health crisis, a topic that Hannity boosted on his show.
UPDATE — 10:47 p.m.ET:
The guy from Nat Enquirer story who Hannity had on was the EIC of Weekly World News and wrote a novelization of Mortal Kombat.

— Josh Feldman (@feldmaniac) October 25, 2016
—
[Hannity photo: Gage Skidmore. CC BY-SA 3.0. via Wikicommons]
Sam Reisman (@thericeman) is a staff editor at Mediaite.
Have a tip we should know? tips@mediaite.com