Harry Reid: We Would Have Won and Picked Up Senate Seats 'If Comey Kept His Mouth Shut'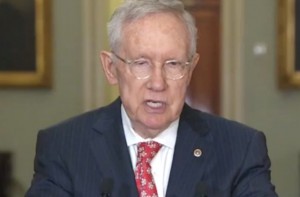 Senate Minority Leader Harry Reid delivered his farewell address on the Senate floor today, and he's been giving a few exit interviews upon the occasion of his departure from the Senate.
One of these interviews was with Politico, and in it he doesn't engage in the kind of introspection some have been advising the Democrats to embrace, but instead blaming external factors for his party's big election loss.
What factors are those? Well, he cites the Koch brothers (of course), campaign finance issues, and James Comey.
Yep, Reid is not backing down from his belief that Comey cost Hillary Clinton the election:
"They have Trump, I understand that. But I don't think the Democratic Party is in that big of trouble… I mean, if Comey kept his mouth shut, we would have picked up a couple more Senate seats and we probably would have elected Hillary."
Reid also has no regrets about invoking the "nuclear option" to eliminate the filibuster on Cabinet confirmations, even with the prospect of President-elect Donald Trump getting his nominees through the Republican-controlled Senate without much fuss.
"I'm satisfied we did it," he said. "We had to. Look at why it was done. We got almost 100 judges approved… we saved the integrity of different agencies of government."
And Reid, who has been on a tear recently about Trump and his appointments, wants Democrats to still fight Trump while not trying to make the "mistake" of reflexively opposing everything they do.
[image via screengrab]
— —
Follow Josh Feldman on Twitter: @feldmaniac
Have a tip we should know? tips@mediaite.com
Josh Feldman - Senior Editor