Is Obama Admin. Sabotaging Prosecution Of Edward Snowden To Repair Rift With Civil Libertarians?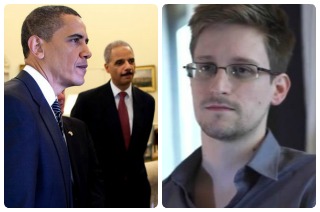 NBC News reporter Michael Isikoff offered a surprising observation on MSNBC on Monday. He noted that the federal government's decision to declassify aspects of the National Security Agency's practice of warehousing the communications data of average Americans in the wake of private security contractor Edward Snowden's release of that information may complicate his federal prosecution. Given the fact that a successful prosecution of Snowden, whose leaks have united civil libertarians on the right and the left in opposition to the NSA, is the least politically popular outcome the government can pursue, is it possible that complicating the Justice Department's course was intentional?

"I do think this is not going to be quite the slam dunk for the government into the leak prosecution that some people are suggesting today," Isikoff said.
Isikoff conceded that Snowden has become a symbol. "There are a lot of people in the Congress of the United States and in the country who think he did the right thing," Isikoff added.
"The government has already declassified aspects of these programs as a result of what he did," he continued. "So, it makes it very hard to bring a criminal prosecution for leaking information that, within 24 to 48-hours, the government declassifies."
RELATED: Fmr. Bush AG Urges No Mercy For Leaker: Soviet Atomic Spies Also Thought They Were Preserving Liberty
Certainly, federal prosecutors can still make the case against Snowden. Former Attorney General Michael Mukasey told Fox News hosts on Monday that he would go after Snowden "in a New York minute."
Isikoff's suggestion that the federal government has harmed their case against Snowden is an interesting revelation, but it is unlikely to be an impediment to mounting a prosecution. Declassification may, however, reduce the number of charges that the government could successfully convict Snowden for violating.
But could that be the White House's calculation? The universal revulsion that the NSA leaks have inspired has proven to be a uniquely unifying force in American politics. Both the president's Democratic allies and his conservative opponents have recently found themselves united over the issue of these leaks. The administration needs a way out.
Could it be more politically advantageous for the White House to hamper the criminal prosecution of Snowden – a course they must pursue – in order to avoid further antagonizing the civil libertarian elements on the right and the left?
> >Follow Noah Rothman (@NoahCRothman) on Twitter
Have a tip we should know? tips@mediaite.com