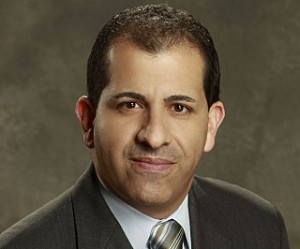 So often these days, every word spoken by top executives at major corporations seems to be carefully chosen, and even more carefully vetted. Public candor is so rarely exhibited by those who occupy the boardrooms of Fortune 500 companies.
Stephen Espinoza is an entertainingly rare exception. Espinoza, the executive vice president of Showtime Sports — the network's de facto sports head — maintains a very active Twitter account, which he frequently uses to sound off on any number of topics.
Sunday, the Olympics' Closing Ceremony — and NBC's presentation of the show — drew Espinoza's ire.
You know what would be great television? A bunch of random athletes walking in a semicircle while Mike Tirico explains who Kygo is.

— Stephen Espinoza (@StephenEspinoza) August 22, 2016
Espinoza had eventually seen enough.
I can't anymore. Hearing Tirico say that the Olympics "can't solve" all of Brazil's problems – as if they solved any – was the last straw

— Stephen Espinoza (@StephenEspinoza) August 22, 2016
For the record, Espinoza didn't think much of the Opening Ceremony either.
The #RioOlympics set is horrendous. Looks like it was recycled from The Electric Company kids' show.

— Stephen Espinoza (@StephenEspinoza) August 5, 2016
Espinoza's sometimes angry Twitter persona isn't for everyone. He's been known to mix it up with critics, professional and amateur alike. But overall, count us as fans of Espinoza's approach to the medium. Seldom does a major media executive give people a window into his or her mind. Haven't you ever wanted to know what Roger Ailes was really thinking?
Okay, bad example.
[image courtesy of Showtime]
–
Follow Joe DePaolo (@joe_depaolo) on Twitter
Have a tip we should know? tips@mediaite.com
Joe DePaolo - Senior Editor