Here's What You Need to Know About the Neo-Nazis Declaring 'Holy Crusade' on Milo Yiannopoulos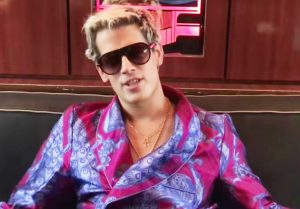 So, you know Milo Yiannopoulos, the guy who got booted from Twitter for — as the site sees it — marshaling and spearheading the racially-motivated attack against Leslie Jones? Well, he said that the "alt-right" isn't racist and now the members of the alt-right who are proud to be racist are really, really angry.
We won't link to the Daily Stormer post about it, but their founder, Andrew Anglin, put it like this:
I am hereby declaring a Holy Crusade against Milo Yiannopoulos, who is the single greatest threat our movement has at this time. He is our arch-nemesis. We need to stop this kike … His plan is working. He is taking our brand, our symbols, and turning them against us for a neocon-Jew conservative agenda. He is rewriting our narrative, while taking everything that we have created to use for his own KIKE purposes. This is the Plan. We are going to be at every single event Milo holds, publicly confront him and put it on YouTube. We are going to show his people that the real Alt-Right exists and that we despise him, that the hoax Alt-Right he's created doesn't exist.
What makes all of this extra weird is that Yiannopoulos works for Breitbart, which has long been seen as an alt-right stronghold. They have been covering the situation and siding with their man.
As you can see, the plan is to disrupt his events with questions and confrontations. Yesterday, Yiannopoulos canceled an event due to a "credible threat," but it is not yet known if it was a result of the angry alt-right "holy crusade."
[h/t Joe.My.God.]
[image via screengrab]
Have a tip we should know? tips@mediaite.com