Herman Cain Urges Twitter Followers To Text 'Cain999' To 90210, Disappointment Follows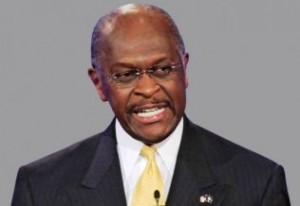 At about 1:30 p.m. today, Herman Cain sent out a Twitter message telling followers that if they wanted to learn more about his 999 Plan, they should text "Cain999" to 90210, which is a nascent service that acts as a combination of web page and twitter feed. Text a name to 90210's service, and you'll be sent texts from the owner of that account a few times per month. Doing so for Cain999 immediately sends back a text that reads:
HERMAN CAIN'S 999 PLAN

Read it right now by going to http://www.hermancain.com/999plan
That was a bit of a let-down. Part of the anticipation of texting Cain999 to the number was receiving, in reply, a long, convoluted series of texts explaining the plan, not just a link to a web page that we've read several times over (along with a second text that promises 2-4 Cain texts per month, which should be fun). It turns out that 90210 is a text service, run by iZigg, that subscribes users to feeds from public figures, stores, and brands. It's like Twitter for text messages: sign up for a feed, and get marketed through text.
RELATED: Stephen Colbert: Herman Cain Is 'Running For President Of Flavor Country'

So who else is using 90210?
By entering "Rick Perry," a message was blasted back saying:
Help save America!

Promote Rick Perry For President!
…followed by the requisite warning that you will receive 2-4 messages per month.
Then things go a little awry. We sent several more texts to 90210 with political and business names:Michele Bachmann, Obama, Newt Gingrich, Ron Paul, Rick Santorum, Amazon, Guinness, Cuervo, The Karate Kid, Godfather's Pizza, McDonald's, and Bill O'Reilly. In return, we received the following texts (some wild guesses returned nothing):
Thanks for joining Mark Megna!
Thanks for joining Michele Massion!

Michele Massion Windermere
Realtor Since 1989
Deb Beachem
iConnect
Thanks for joining Bill Rowland!

Bill Rowland
National Sales Director

Crush It Event: http://bit.ly/ggIPeK
I love McDonald's too! Want to learn how to get deals from places you love. Go to izigg.com/asap then call me, Kellie, at 815-xxx-xxxx.

Thanks for joining Kellie Hoge!
http://mcard.izigg.com/m/?guinness
There are a few ways to look at this:
1. Cain is ahead of the crowd in social networking. Sure, getting texts pointing to websites is a little cheesy, but if Cain's tweets are lost in a sea of hundreds of other updates, this is definitely a better way to get word out on a more personal level. If he's on Piers Morgan one night, for example, he can blast a notice out via 90210 as a complement to Twitter. You may not always be checking tweets, but if the phone buzzes while you're watching TV, you might flip over to watch.
2. Cain is a spammer. Although, to be fair, you have to sign up for the spam. And it's incredibly easy to opt-out, by simply texting back "STOP" (or, in our case, "STOP ALL").
3. Now might be the time to register a bunch of names on 90210. Just like grabbing a bunch of popular website names on the Internet and then re-selling them was a great way to make a quick buck back in the day (pets.com, books.com, etc), registering for something like "CVS" on 90210 could work in your favor. If it takes off. Tie the fate of 90210 to the fate of Herman Cain — if he's committed to using 90210 for blasting news, it will likely grow alongside his popularity. And as 90210 grows, more prospectors will be snatching up popular words, terms, and names. Is it the smartest investment opportunity? Probably not. But if Herman Cain, the man who leads all Republican candidates, is using a new technology on the biggest stage in our country, chances are it might have legs.
Or it could just be an annoying text service. For now, though, it might be fun to wait it out and see exactly how Herman Cain will be texting me over the next few months.
Have a tip we should know? tips@mediaite.com