OWS Takes Over A DOE Meeting. Is The Human Microphone Coming To A Town Hall Near You?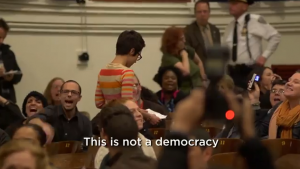 One thing you may have noticed about the Occupy Wall Street protesters if you've been down to lower Manhattan or have been watching videos from the demonstration is that they've come up with some inventive means of communicating amongst themselves. There's the "silent wave" many do instead of loud applause, and there is, of course, the "human microphone." The concept is simple: One person, who has the floor, says something. That something is then repeated by those in the crowd so that everyone has a chance to hear what is being said without the need for expensive and cumbersome audio equipment or an annoying bullhorn. It has its quirks and faults of course, but, for the part, it has proven to be an effective communication tool.
RELATED: Occupy Wall Street's 'Human Microphone': Insanely Brilliant…Or Just Insane?
…Which might just explain why OWS protesters elected to use the human microphone at a recent New York City Department of Education meeting.
Our friends at TurnStyle News explain what happened:
Protesters from the Occupy Wall Street movement last night took over a New York City Department of Education meeting presided over by the department's schools chancellor. As soon as the panel called the meeting to order, someone in the crowd shouted "Mic check!" and the protesters took control with their low-tech technique of call-and-repeat speeches that has become known as the "People's Microphone.
So if you're a government official or business person whose meeting is interrupted by someone requesting a mic check, you might have just found yourself becoming occupied.
Have a look at the video below, courtesy Meerkat Media:
h/t TurnStyle News
Have a tip we should know? tips@mediaite.com