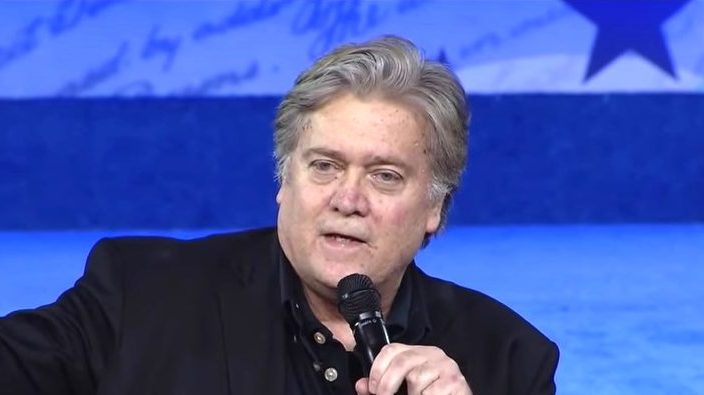 In a new interview with The Hollywood Reporter, Steve Bannon's former Hollywood partner, Jeff Kwatinetz, is breaking his silence to defend him. Kwatinetz is the founder of The Firm, the talent management and TV production company where Bannon worked in 2002 and 2003. Kwatinetz, a liberal, told THR's Paul Bond that he hired Bannon because he "was a very successful banker and is brilliant," and the firm was growing.
Kwatinetz speaks incredibly highly about him in terms of his intelligence, work ethic, and the person he is. Despite their differences, Kwatinetz says, "I don't judge people on their politics, I judge them on their character, and from what I knew then and what I know now, Steve has great character. He's not a racist or anti-Semitic. Things like that are absurd."
Of course, Kwatinetz's statements go against a lot of what has been reported about Bannon. When asked why people would say that if it isn't true, he said that lots of people who knew him when he worked at The Firm think the media is lying:
I've had 20 people who worked at The Firm when Steve was there ask me why the media is lying about Steve. Unlike most of us, Steve is very at ease with himself. He doesn't need people to correct falsehoods, and he didn't ask us to do so. He's a great person who wants the world to be a better place. He's a good friend and an incredibly hard worker. He has beliefs and stands by them. Those beliefs aren't based on racism, they're based on what he honestly believes is best for the world. Do I agree with all of them? No. He was a Bush and a [Donald] Rumsfeld supporter, I was a Bill Clinton and Bernie Sanders supporter. But not being a liberal doesn't mean you're a racist.
He described Bannon as being brilliant and opinionated, rather than divisive. Kwatinetz says he was strong, and sure of his values. "He doesn't ask people to defend him, and he doesn't seem to be bothered by the lies, he just does his thing. That's how he always was ‑- very self-assured."
Bond also asked him why others aren't sticking up for Bannon like he is. "I don't believe that's true. I know of two others who talked to reporters on background whose statements were ignored, as were mine." Specifically, he pointed to The New Yorker's Connie Bruck as one of those reporters.rr
Bannon is not only one of the most polarizing figures in President Donald Trump's administration, he's one of the most polarizing people in Washington. Kwatinetz is aware of that, but he doesn't seem concerned. He told THR, "He's a great guy, and if it gets me in trouble for telling the truth, then it gets me in trouble."
For the full Q&A, head over to The Hollywood Reporter.
[image via screengrab]
Have a tip we should know? tips@mediaite.com