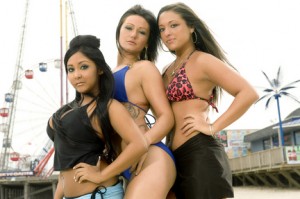 Do you like MTV's Jersey Shore? If your answer is no, it's probably because you're old and cynical – at least according to the MTV Networks President Van Toffler.
That was the implication at a luncheon yesterday when Toffler discussed who MTV's new audience was, and why Jersey Shore is just perfect for the demographic of choice.
THRFeed's James Hibberd reports on comments made by Toffler yesterday. "We're pushing Generation X out," he said. "We're slaves to our different audiences, for MTV that's millennials, who are vastly different than Generation X; they're definitely less cynical – they're more civic minded."
Also: "Millennials are really about authentic reality and family" and MTV "played up the camaraderie and family elements" on Jersey Shore.
Look, we spent a lot of time documenting the inner workings and tiniest details of every episode of Jersey Shore, and the "family elements" were few and far between. And when they were featured, they were the filler until the guidos and guidettes could get back to pounding Vodka Red Bulls and…other elements of the show that made it such must-see TV.
Where this show fits in the whole 'civic-mindedness' I'm not too sure. I'd probably fall in the millennial, or Generation Y, category, and I've certainly enjoyed watching the show. It's almost an anthropological study in a culture that many do not even know exist. But it doesn't change the healthy dose of cynicism that still exists – for me and many others in my generation.
Time TV critic James Poniewozik weighed in, with the headline "MTV: I Am Too Old & Cynical to Like Jersey Shore," today:
MTV isn't interested in Gen X; its youngest members are now 30, so while they might watch MTV, they aged out of the target demo about five years ago. (I watched Jersey Shore, which was just very well-made reality TV about overstimulated, 'roid-raging America, but I don't kid myself that MTV cares if I watched it.)
MTV wants all the viewers they can get. After all, season two is just around the corner. So, stay positive, America's youth!
—–
» Follow Steve Krakauer on Twitter
Have a tip we should know? tips@mediaite.com